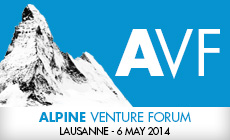 Brussels, Belgium & Lausanne, Switzerland (PRWEB UK) 9 May 2014
The third edition of the Alpine Venture Forum took place in Lausanne, Switzerland, last Tuesday, May 6th 2014. The event was organized by Europe Unlimited in collaboration with its host Canton de Vaud, its sponsors CPV Partners and Cleantech ALPS and its local partners Bioalps, Business Angels Suisse, École Polytechnique Fédérale de Lausanne, Innovaud, EPFL Innovation Park, SECA, Venture Kick, Venture Lab, Venture4i and the Commission for Technology and Innovation CTI.
49 emerging entrepreneurs coming from Switzerland and its surrounding regions- selected from a pool of over 100 companies -presented their innovations, developments and needs in front of an investor jury of about 50 business angels, venture capitalists, corporate investors and other industry experts.
The award winners qualified to continue along the European Venture contest; a pan-European contest of venture events that gathers the best of each edition to join the European Venture Summit, Europe's largest venture capital match-making event, taking place on 10 December 2014 in Düsseldorf, Germany.
Below are the names of the award winners of the Alpine Venture Forum 2014:
ICT:

CashSentinel – Switzerland (Large payments. Safer than ever. With CashSentinel you can buy a vehicle easily and safely, wherever it is.)
Terabee - France (Technology developers - low-cost fast and safe indoor inspections and related sensing solutions.)
Tracegolf - Switzerland (Using embedded electronics and image processing, tracegolf transforms the golf driving range into an interactive training and entertainment facility.)
Visiosafe - Switzerland (Smart Analytics for Physical Spaces)
Life Science:

Biovotion – Switzerland (Continuous, non-invasive, medical-grade physiological monitoring.)
Inflamalps - Switzerland (Development of novel therapies for the treatment of autoimmune diseases of the eye.)
InSphero - Switzerland (With our 3D microtissue technology we bring tumor chemosensitivity testing into the 21th century to increase cancer patients' chances for successful treatment.)
Sophia Genetics - Switzerland (Sophia Genetics SA debottlenecks informatics and analytics constraints to accelerate Next Generation DNA Sequencing adoption in Clinical practice.)
TransCure Biosciences - Switzerland (TransCure Biosciences (TCB) is offering the humanized immune system and HIV mouse models for drug profiling.)
Cleantech:

APIX Technology – France (APIX changes the use model for multi-gas analyzers: miniaturization, cost reduction for in situ and ubiquitous applications.)
Genport - Italy (GENPORT presents lightweight power generation solution.)
Tyre Recycling Solutions – Switzerland (Tyre Recycling Solutions SA develops and implements new proprietary Swiss technologies and business processes for the collection, destruction and recycling of used tyres, profitably, sustainably and globally.)
You can view the list of presenting companies and their profile at the link: http://e-unlimited.com/events/view.aspx?events_pages_id=2872.
The Investor Jury who selected the award winners of the AVF included - among others - investors Creathor Venture, Swisscom AG, Aravis, Business Angels Suisse, Inventages, Oracle, Sofinnova, Dow Venture Capital, Evonik Venture Capital, Finindus NV, and many more.
You can view the full list of Jury Members and their biographies at the link: http://e-unlimited.com/events/view.aspx?events_pages_id=2751.
Event Website: http://www.e-unlimited.com/avf
For information please contact Annalisa Gardella at: annalisa(at)e-unlimited(dot)com or call at :+32 2 643 36 91.
~~~
Note to the editors:
About Europe Unlimited
E-Unlimited is a private Brussels-based champion in entrepreneurship support. E-Unlimited is the organization behind the European Venture Contest, Europe's most effective contest for technology entrepreneurs seeking international venture capital; the International Venture Club, a global collaborative network of independent, corporate and institutional investors; the TechTour, Europe's leading platform for growth stage entrepreneurs and investors; and several other pan-European initiatives in collaboration with regional and national development bodies and the European Commission.
http://www.e-unlimited.com
About the European Venture Contest
The European Venture Contest finds, evaluates and awards the most promising entrepreneurs in the high technology sector by providing access to top-level international partners, advisors and financiers. The Contest reaches this year its 9th edition, and in the past years gathered over 800 companies and 600 venture capitalist and corporate investors from all over Europe. The top 100 companies awarded at the qualifier events will present in December at the European Venture Summit in front of an audience of 150 top European investors.
http://www.e-unlimited.com/evc