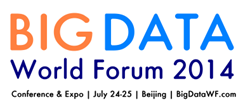 BDWF 2014 | Conference & Expo | July 24-25 | Beijing
Beijing, China (PRWEB) May 12, 2014
The 4th Big Data World Forum (BDWF 2014) will be held in Beijing from July 24th to 25th. BDWF was established in 2011 and has experienced rapid growth, while establishing a reputation as high-quality vendor neutral event with highly credible education and attracting a strategic level audience of decision makers and thought leaders. For the upcoming BDWF 2014, the event will bring together decision makers using the power of big data to drive business strategy and practitioners who collect, analyze, and manipulate the data - particularly in financial services, telecom, government, manufacturing, energy & utilities, medical & healthcare, and other industries.
For companies, the Big Data movement represents an opportunity to identify correlations, connect new dots, and unlock unprecedented business opportunities. But how do businesses get started? And who should own big data initiatives that straddle the entire organization? The Big Data market is not just about technologies & platforms - it's about creating new opportunities and solving problems. Smart companies seeking to set a holistic Big Data strategy and discover ways Big Data technology can be an enabler to business solutions need an independent forum to engage, learn and glean best practices.
BDWF 2014 is your opportunity to be in front of the decision makers who are using data to transform business today. Join us at BDWF 2014 and meet face-to-face with today's top industry players and network with Business and IT decision makers.
Contact Information:

registration(at)bigdatawf(dot)com
Sponsorship and Exhibition Opportunities
sponsorship(at)bigdatawf(dot)com
partners(at)bigdatawf(dot)com
Visit for more information on event website: http://www.bigdatawf.com.