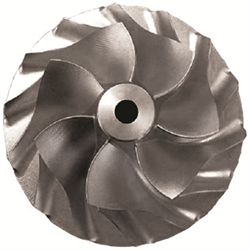 TURBOdesign Suite provides the best means of rapidly designing 3D centrifugal compressor blades with superior performance.
(PRWEB) May 12, 2014
Advanced Design Technology, a global leader in the development of advanced turbomachinery design methods, is delighted to announce that they will be exhibiting at the 11th International Conference on Turbochargers and Turbocharging, 13th-14th May 2014, London.
The conference will showcase the developments and advances in the turbocharging industry, including future projects from industry and academia. The conference will address mounting demands to reduce CO2 and fuel consumption becoming the major market drivers in the transport and industry sectors. With these demands and emissions legislations comes the rapid evolving of the Turbocharged Internal Combustion (IC) Engine. The event will focus on how the turbocharging industry is responding to these challenges, concentrating on recent developments in high pressure ratio systems, design, reliability and durability. Application of high-boost technologies to a wide range of IC engines will be presented.
ADT has been collaborating with turbochargers OEMs for many years, addressing complex aerodynamic problems such as improving efficiency, reducing mechanical stresses and obtaining a more uniform flow field for better stage performances.
ADT is pleased to announce that some results of this work will be presented at this year's conference with a publication on "3D Inverse Design Based Multidisciplinary Optimization on the Radial and Mixed-Inflow Turbine for Turbochargers" by Prof. M. Zangeneh, Managing Director of ADT and Professor at the University College of London (UCL), J. Zhang, UCL and P. Eynon, Cummins Turbo Technologies, UK.
ADT's engineers will be on hand to demonstrate how by using TURBOdesign Suite you can achieve better know-how transfer between projects and design teams, significant reduction in design time, higher performance and reduction in noise.
Please contact us to arrange a demonstration of our unique 3D design and analysis codes during the exhibition, or drop by and visit us.
About the TURBOdesign Suite - System Requirements, Availability and Pricing
ADT's TURBOdesign Suite is a unique aerodynamic and hydrodynamic 3D design software package that allows users to design, analyze and optimize all types of turbomachinery, such as axial, mixed-flow or centrifugal pumps, compressors, fans, turbines and torque converters. Using the software, designers evaluate turbomachinery package size and performance predictions; perform detailed 3D blade design with 3D inverse design capabilities; analyze flow information per component; stage performances with turbomachinery specific 3D computational fluid dynamics (CFD); and automate exploration of the design space with automatic optimization capabilities. Fast development of customized design is, therefore, made possible.
TURBOdesign Suite runs on Windows systems. It operates on mid-range workstations with 2.4 Ghz or better processors, 2 GB RAM and 1Gb disk space.
The TURBOdesign Suite is now shipping. It is sold in modules starting from $15,000 USD with software training and technical support included.
About Advanced Design Technology:
Advanced Design Technology (ADT) is a global leader in the development of advanced turbomachinery design methods, which helps not only to shorten development time but also to improve the performance of turbomachinery components. ADT's aim is to put designers in direct control of the aerodynamic design and to shorten, considerably, the design time and time to market for a range of turbomachinery products. ADT's clients, who represent some of the leading global players in the aerospace, automotive, power generation and marine fields, have achieved significant returns on investment in terms of reduction in design times, higher performance and ease of know-how transfer among different design teams and projects. For more information, call +44 (0) 20 7299 1170 or visit http://www.adtechnology.co.uk.