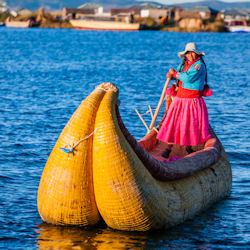 "For the modern traveller on holiday in Peru, [the Nazca Lines] mean an exceptionally environmentally unfriendly flight."
(PRWEB UK) 9 May 2014
Better known for the Inca Trail, Machu Picchu and a host of jagged Andean peaks, it's very easy to view a trip to Peru as a check-list of lost Incan delights. However, for a much more authentic and enriching experience the responsibletravel.com 2 minute travel guide to Peru accessible here -http://www.responsibletravel.com/holidays/peru#travel-guide - recommends seeing less sights, instead taking the time to immerse yourself in the culture and landscape of each place for longer. And even perhaps avoiding some popular tourist destinations completely.
The guide argues that the 'Nazca Lines', a field of mega glyphs which can only be seen from above by light aircraft and attract tens of thousands of tourists per year are one of its most overrated experiences. It says "for the modern traveller on holiday in Peru, that means an exceptionally environmentally unfriendly flight; a large fee for 30 minutes in the air; and a high chance of sickness as the plane banks left and right to allow views out of both sides."
Instead the guide highlights the hidden valleys, jaw-dropping canyons and welcoming Quechua communities, which all lie within a stone's throw of Peru's major attractions and make off-the-beaten track adventures accessible for even the least adventurous traveller. Getting off the well-trodden tourist trail is easy if you know how; here are responsibletravel.com's tips:

Don't fly straight out of Lima to Cuzco – instead spend a couple of days in Peru's underrated, eclectic capital and sample its world-class restaurants and booming Peruvian gastronomy.
Take a daytrip to Titicaca's Islands and you'll miss its most atmospheric sight; the sun rising over the sacred lake. An overnight stay instead will give you a chance to explore without the tourist hordes, and experience an authentic culture that hasn't changed for centuries.
Quechua culture is quite rightly a popular tourist draw, but markets along tourists routes are too often chock-full of mass-produced, inauthentic goods. Instead try the Rosaspata Market in Cusco; it may be slightly rough around the edges but you'll get a taste for a real, traditional Peruvian market, and all its foodie delights.
Stay at a homestay; it's not only the best way to put your money straight into a very local community but in a country so vast, is also the best way to access some of its best hiking routes and remote communities. And you'll receive a very warm welcome – especially in the highlands where local people thrive on sharing their homes with guests.
The 2 minute guide to Peru is one of a series of open, honest travel guides currently being produced by responsibletravel.com. A full list of guides can be found at http://www.responsibletravel.com/copy/travel-guide-homepage.
Notes to editors:
About responsibletravel.com
http://www.responsibletravel.com is the world's leading online travel agent for responsible holidays and a pioneer of responsible tourism. Started in 2001 with backing from Dame Anita Roddick of The Body Shop the site's mantra is 'travel like a local'. It sells holidays that are about more than just a brief stay somewhere - instead it is travel that offers a real connection with the people, the landscape, the culture, the food and the environment. It offers over 7,500 responsible holidays from over 3,000 holiday providers which all support communities and conservation. Handpicked local specialists provide authentic holidays for those seeking adventure and culture , whether travelling with family, joining a small group tour or looking for tailor-made experiences worldwide, in destinations as diverse as South Africa - http://www.responsibletravel.com/holidays/south-africa , Ecuador - http://www.responsibletravel.com/holidays/ecuador, Finland - http://www.responsibletravel.com/holidays/finland and Borneo http://www.responsibletravel.com/holidays/borneo.
In addition responsibletravel.com:

founded and organises The World Responsible Tourism Awards, celebrating 11 years at World Travel Market this year.
campaigns for positive change in the travel and tourism industry.
publishes an expanding series of honest, expert 2 minute travel guides
CEO Justin Francis has been included in Courvoisiers The Future 500, Thames and Hudsons 60 Innovators Shaping Our Creative Future and taken his place on the Advisory Board of The International Centre for Responsible Tourism at Leeds Metropolitan University.
The company is based in Brighton's North Laine district, England.