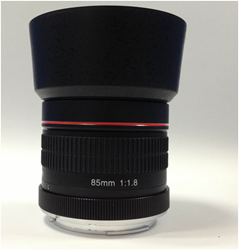 they are very capable lenses that we are proud to launch alongside our range of exclusive photography accessories.
UK (PRWEB UK) 14 May 2014
Kauser International are exclusive distributors for KELDA lenses outside of China and are pleased to announce the new launch of photographic lenses for Digital SLR users.
KAILI Optronics is a boutique Chinese manufacturer specialising in DSLR photo optics. Upon launching the KELDA range in Asia at the Beijing Photo Show 2013 the company has seen initial interest in the new lenses; and is now working with Kauser International to now bring them exclusively to the UK digital imaging market.
Ali Kamruddin, Managing Director at Kauser International says: "KELDA is the new kid on the bloc and has to work extra hard to get the credibility in the marketplace when competing with other well-known brands. KELDA lenses offer exceptional value with high quality results with a competitive price." (KELDA lenses start at RRP £135.99).
There are two main lenses in the range; the KELDA 500mm f/6.3 manual focus mirror lens, for full frame cameras (fitted via T-mount adaptor), and the KELDA 85mm f/1.8 manual focus portrait lens, available for the Canon mount.
Kamruddin concludes: "We are urging customers not to be put off by the low price, as they are very capable lenses that we are proud to launch alongside our range of exclusive photography accessories."
Two new lenses are available in the UK from Kauser International, please call 01727 874088 or go to kauserinternational.com to find out more and place an order.
About Kauser International
Kauser International Trading Ltd was registered on 16th December, 1996 as an Export arm of Bush & Meissner Ltd. but over the years their activities have fused into the one entity – KAUSER. The export side of the Company deals with a wide variety of products generally requested by our overseas clients. They are not necessarily photographic.
Kauser International are currently undergoing website maintenance, but information about the company and products can still be found here: http://kauserinternational.com/?page_id=91.
About KAILI Optronics
Changchun Kaili Optronics Co.Ltd established in 2006 is an all-round enterprise designing and manufacturing IR thermal imaging systems, digital camera lenses and other imaging and optoelectronics products besides car video reversing video systems. It employs over a 1,000 people and has an annual turnover of US$100m.