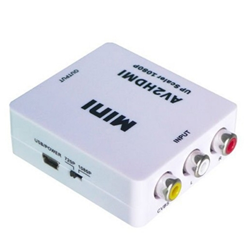 (PRWEB) May 11, 2014
Hiconn Electronics is a leading supplier of high end electronics equipment. The company has recently announced its big sale for CVBS TO HDMI Converters. All its old and new clients can access a discounted rate, up to 30 percent off, when they order CVBS TO HDMI Converters online. The promotion will last until the end of May.
The wholesaler CVBS TO HDMI Converters from Hiconn Electronics are manufactured according the customer feedback. In fact, the company considers customer satisfaction as the most significant part of the business. Its experienced workers will help clients worldwide to get what they need. At the moment, over 600 different kinds of top quality electronics accessories are offered on Hiconn Electronics's website.
Some detailed information about its cheap and new CVBS TO HDMI Converters are as follows:
--One AV Signal input
--R/L audio signal input
--One HDMI Signal output
--HDMI signal 720p/60HZ output
--Adaptive PAL / NTSC standard.
--Easy to install and can be installed well in two minutes
--Need DC5V/1A power supply
In addition, the company accepts a lot of premium carriers like UPS and DHL. All the ordered electronics accessories will be shipped as soon as possible. Also, custom made items are also provided on its website now; all clients can get what they exactly want without any extra costs.
About Hiconn Electronics
Hiconn Electronics (Shenzhen Hiconn Electronics Co. Ltd.) is devoted to designing and manufacturing a wide range of connection cables and customized cable assemblies, offering many HDMI cables, VGA cables, SATA cables, USB cables, 1394 cables, DVI cables, SCSI (Small Computer System Interface) and more. For more information, please visit http://www.hiconn.net/.
Contact Person: James Yin (Sales Director)
Company Name: Shenzhen Hiconn Electronics Co., Ltd.
Address: Shenghua Building., Xixiang Road., Baoan District, Shenzhen, Guangdong Province, China
Zip Code: 518102
Tel: +86-755-8109 8345
Fax:+86-755-2779 3497