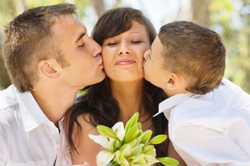 Admission is free to the public so you can dazzle your mom, wife, mother-in-law, grandmother, sister and sweetheart on an urban adventure to pick their flower gifts at California Flower Mall. Feliz Dia de Las Madres!
Los Angeles, California (PRWEB) May 09, 2014
California Flower Mall blooms 24/7 with last minute Mother's Day flowers and Dia de Las Madres bargain buds up to 70% off retail prices. CFM is the only Downtown Los Angeles wholesale flower market open 3 days non-stop starting Friday 4:30 a.m. until 7 pm Mother's Day Sunday.
"It's paradise for procrastinators buying last minute Dia De Las Madres flowers and Mother's Day flower gifts, budget minded bargain hunters with a big gift list, or those waiting until payday to shop for moms this weekend," says Hilda Jimenez, California Flower Mall operations director.
In the LA region there are many ethnically distinct ways to say I love you to mom on her special day. Latin American Mother's Day – Dia de Las Madres - observed May 10, is one of the most important holidays in Mexico, El Salvador and Guatemala. 48 percent of LA County residents are Latino, according to the Pew Research Center.
Jimenez, a native of Mexico, says it's common for Mexican-Americans to observe Dia de Las Madres traditions in the U.S. "It's the custom to begin celebrating on the eve of the May 10 holiday," she says.
"Many LA Latino families will celebrate their Mom's this Friday night, showering her with red or pink flower bouquets, gathering together and making her a traditional meal," she adds.
"Mariachi serenades and musical performances paying tribute to mothers and motherhood are part of the Latin American mother's day tradition too," Jimenez notes.
Mother's day is second to the winter holidays in retail spending the National Retail Federation reports. Two-thirds of shoppers plan to buy flowers this year. Spending on Mother's Day flower gifts is expected to reach $19.9 billion the NRF says.
"Flowers have always reigned as one of the top Mother's Day gifts," says NRF spokeswoman Kathy Grannis.
"Our flower district community is one of Downtown LA's most colorful, urban destinations; it's lush with miles of flower market aisles and sidewalks blooming with millions of fresh flowers that dazzle the senses," says Mark Chatoff, CFM president.
"Every stem in every local florist shop, supermarket, warehouse store and street corner probably started here – so it makes sense for flower gift bargain hunters to shop at the source to get the lowest price," Chatoff says.
Alfredo Samaniego, owner of LA Flowers and Design at CFM, is a floral designer primarily serving corporate and event clients. During holidays he demonstrates he also has an eye for the beauty and simplicity of DIY flower gifts.
"Mother's Day or Dia de Las Madres gifts can be as simple as a fresh flower bouquet with some well placed greenery to frame it," Samaniego says. He demonstrates how to make your own gorgeous gift bouquet in a short video posted on California Flower Mall's YouTube gallery or Facebook page.
Samaniego's says his corporate clients love to meet onsite. "They tell me it lifts their spirits to stroll the flower market." He invites families to treat their moms to an uplifting visit.
"Admission is free to the public so you can dazzle your mom, wife, mother-in-law, grandmother, sister and sweetheart on an urban adventure to pick their flower gifts at California Flower Mall," Samaniego says, warmly adding, "We'll be open for you -- Feliz Dia de Las Madres!"
About California Flower Mall
The California Flower Mall, located at 825 San Pedro Street, is one of the largest premier DIY wholesale flower marts in the Downtown Los Angeles flower market neighborhood. The 8 block Los Angeles Flower District community is the largest concentration of wholesale flower markets and flower businesses in the U.S. It is located in the LA Fashion District Business Improvement District.