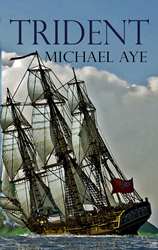 ...like listening to an old salt as he relates tales from the past.
Pasadena, CA (PRWEB) May 12, 2014
Ile Sainte-Marie, or St. Mary's, just a few miles east of Madagascar, was a pirate base during at least two periods in history. In 1698, Captain Kidd watched as his flagship sank in the harbor at Ile Ste.-Marie due to disrepair. It is said that several pirate vessels still lie just below the surface, one supposedly the Fiery Dragon. During the pirate heyday of the seventeenth and eighteenth centuries, pirates patrolled the maritime routes used by merchant ships, most notably those of the East India Company as they returned home from trading in the Indian Ocean. After raiding the merchant ships, the pirates would sell or trade their booty and then return to their strongholds.
It is this setting that inspired Michael Aye's sixth installment of his popular maritime history series, the Fighting Anthonys (Boson Books/Bitingduck Press). Trident, tells a tale American privateers and French raiding the British shipping lines. Recently promoted to Rear Admiral, Rupert Buck's flag flies aloft HMS Trident as his squadron is formed. Captain Sir Gabriel Anthony, England's latest hero, has been chosen as flag captain. What was to have been a routine mission has suddenly been changed by the Foreign Services Office. American privateers have joined with the French to raid British convoys returning from the Indian Ocean. Buck's squadron has to immediately weigh anchor and rush to meet this new threat. A sudden crisis develops and Gabe finds himself thrust into command of the squadron. Follow the ships and men under Rear Admiral Buck's flag as they raid a neutral fort, battle the elements and face a powerful enemy with cannons blazing.Trident was released today in Kindle format on Amazon. A paperback version and other electronic versions (Barnes and Noble, Kobo, Apple) will follow over the next several days.
Aye's series has attracted a loyal following of maritime history fans. Alaric Bond, author of Turn a Blind Eye, says "Reading Michael Aye's books is like listening to an old salt as he relates tales from the past. His stories are bright, bold and brim filled with action while underlying all is the deep and natural rhythm of the sea." The author has been featured in Quarterdeck magazine and reviewed on "Historical Naval Fiction." He is currently at work on a series about the War of 1812, the first volume of which, Remember the Raisin, appeared in 2013.
Michael Aye is the pen name of Michael Fowler, who spent his first career as a Navy medical officer. Now retired, he gathers information for his fiction from winter trips to the Caribbean. The setting for Trident was inspired in part by the pirate graveyard on St. Mary's, and the author has explored the caves, lagoons, and bays featured in his colorful reenactment. His many years at sea add to the verisimilitude of his tales, especially his on-board folk remedies.
Appropriate for middle teens on up, Aye's series are part of Los Angeles-based Bitingduck Press's young adult collection, under the Boson Books imprint. Boson Books was one of the first e-publishers on the web, providing electronic books since 1994. Acquired by Bitingduck in 2012, the Boson imprint provides fiction and non-fiction in electronic format for all readers, and many books in print. The Aye series are released in trade paperback along with their digital editions, with discount e-books available through Amazon's MatchBook program. Electronic books are also sold in other retail stores using the patent-pending WebBytez system.