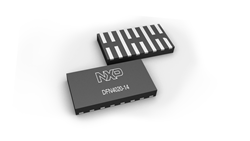 Eindhoven, Netherlands and Hamburg, Germany (PRWEB) May 12, 2014
NXP Semiconductors N.V. (NASDAQ: NXPI) today announced the availability of a new family of Common Mode Filters (CMF) with integrated ESD protection for high-speed MIPI D-PHY and HDMI interfaces. Offering industry-leading bandwidth for Common Mode suppression as well as strong system-level ESD protection, the PCMF2DFN1 (for two differential line pairs) and the PCMF3DFN1 (for three line pairs) outperform all other silicon or ceramic-based solutions currently on the market. The PCMF family comes in small and thin DFN packages with a maximum height of 0.5 mm and an industry standard footprint, supporting the compact and slim designs of today's smartphones, tablets and other portable devices.
Wide-band suppression of Common Mode noise
The PCMF series offers a typical Common Mode rejection of more than 12 dB in the band between 300 MHz and 8 GHz. The PCMF2DFN1 and PCMF3DFN1 are the only available devices offering a typical Common Mode rejection of >18 dB for Wi-Fi 4.9-5.8 GHz frequencies, in addition to a typical Common Mode rejection of > 20 dB around the GSM 900 spectrum. The products help to accelerate time-to-market due to their simplified 'out-of-the-box' design. The wide bandwidth supported by the PCMF series means that manufacturers, no longer have to spend time trying different narrow-band filters in order to find the right solution. PCMF-series offers industry leading bandwidth for common mode suppression covering all typical data rates and their higher harmonics.
Superior differential signal integrity
With a differential pass-band covering more than 2 GHz, the PCMF series supports all MIPI D-PHY data rates up to 1.5 Gbit/s, and even passes the HDMI eye diagram requirement at 3.4 Gbit/s, as verified by the independent Authorized Testing Center in Caen.
Deep snapback, low dynamic resistance for high system-level ESD protection
ESD pulses can couple to data lines – even in closed cases through gaps, such as the camera fitting in mobile phones or tablets. To address this, the PCMF series features ESD protection with NXP's industry-proven deep-snapback technology. Protection devices with deep-snapback technology show a negative dynamic resistance when triggered by an ESD event. In addition, the value for the dynamic resistance after the snapback is the lowest available for common mode filters with ESD-protection. This combination ensures the best possible protection of sensitive System on Chips.
Key Features of PCMF2DFN1 and PCMF3DFN1
•Industry-leading bandwidth of Common Mode rejection
•Superior differential signal integrity, passes the HDMI eye diagram requirement at 3.4 Gbit/s
•Industry-leading system-level ESD protection due to deep-snapback and low dynamic resistance
•Package with 0.5 mm maximum thickness, using an industry-standard footprint
Links

About NXP Semiconductors
NXP Semiconductors N.V. (NASDAQ: NXPI) creates solutions that enable secure connections for a smarter world. Building on its expertise in High Performance Mixed Signal electronics, NXP is driving innovation in the automotive, identification and mobile industries, and in application areas including wireless infrastructure, lighting, healthcare, industrial, consumer tech and computing. NXP has operations in more than 25 countries, and posted revenue of $4.82 billion in 2013. Find out more at http://www.nxp.com.
ENDS
Forward-looking Statements
This document includes forward-looking statements which include statements regarding NXP's business strategy, financial condition, results of operations and market data, as well as other statements that are not historical facts. By their nature, forward-looking statements are subject to numerous factors, risks and uncertainties that could cause actual outcomes and results to be materially different from those projected. Readers are cautioned not to place undue reliance on these forward-looking statements. Except for any ongoing obligation to disclose material information as required by the United States federal securities laws, NXP does not have any intention or obligation to publicly update or revise any forward-looking statements after NXP distributes this document, whether to reflect any future events or circumstances or otherwise. For a discussion of potential risks and uncertainties, please refer to the risk factors listed in NXP's SEC filings. Copies of NXP's SEC filings are available from the SEC website, http://www.sec.gov.