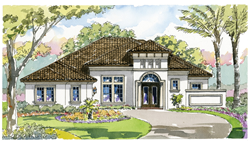 Arthur Rutenberg Homes opens its latest model home in The Islands of River Wilderness, in Parrish, FL.
Parrish, FL (PRWEB) May 09, 2014
Families interested in buying a custom home in the Parrish, FL area can now see what a completed Arthur Rutenberg Home looks like. The Sarasota-based custom homebuilder R.W. Homes, LLC, an independent franchisee of Arthur Rutenberg Homes, is opening its Monaco model home, fully furnished and equipped with the popular amenities that Arthur Rutenberg Homes offer.
Located at 11740 Rive Isle Run, Parrish FL 34219, the home is situated in the exclusive, private island in the River Wilderness Golf Resort. The custom home is the Arthur Rutenberg Homes "Monaco" plan and is 3,147 square feet with three bedrooms, three baths and a den. It is professionally furnished for visitors to get an idea of how a complete custom home might look. The home also features:

An open roof floor plan, one of the hallmarks of Arthur Rutenberg Homes design
An outdoor living area, including a large covered porch, complete outdoor kitchen, spa and pool.
The Monaco model home at 11740 Rive Isle Run, Parrish, FL is open for viewings seven days a week. Call 941-348-6852 for more information.
About Arthur Rutenberg Homes
Arthur Rutenberg Homes is celebrating over 60 years in the homebuilding industry and has been a respected name in homebuilding since 1953, when he built his first home upon the four "cornerstones" that would make him legendary: design, craftsmanship, service and responsibility. Today, Arthur Rutenberg Homes. is one of the largest networks of independently owned and operated homebuilding companies in the nation, with franchised homebuilders throughout Florida, Georgia, North Carolina, Ohio, South Carolina and Tennessee. For further information, contact Erik Cocks at 800-ARHOMES or visit http://www.arthurrutenberghomes.com.
About R.W. Wilson Homes, LLC.
Bob Wilson joined Arthur Rutenberg Homes as a superintendent in 1984 and several years later, he was running the company. Only three years after that, he was honored as the Arthur Rutenberg Homes Builder of the Year. As an independent franchisee of Arthur Rutenberg Homes, Bob has built more than 400 homes throughout Sarasota and Manatee Counties.
His personal integrity, outstanding business practices and exemplary customer service earned him a special CEO Award in 2006. His franchise was honored in 2007 with the prestigious Gold Cup Award for the highest customer satisfaction rating.
He and his wife make Sarasota their home. Bob builds in the upscale communities of Boca Royale in Sarasota County, The Islands of River Wilderness in Manatee County and on your own lot in Sarasota and Manatee Counties.