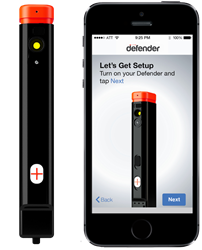 By involving the community of supporters on Indiegogo, we will be able to make an even better product that is influenced by the crowd.
Lewes, DE (PRWEB) May 11, 2014
Pangaea Services, Inc is aiming to disrupt the security and personal emergency response systems industry with The Defender. The Defender is the first smart personal protection system and the only technology to offer Everywhere Security. The Defender is a product for those concerned about personal safety and peace of mind. The Defender integrates elements of products and services found separately, but never before combined into a compact and elegant key chain accessory.
The Defender utilizes the communication technology of a smartphone, coupled with the highest concentration of pepper spray available to law enforcement, a digital camera to capture and forward an assailant's picture to law enforcement, an oscillating flash light, and an audible alarm. The Defender also includes a 24/7 alert response service for self-defense and medical situations. The Defender is designed for easy setup. Turn on, pair Bluetooth, and The Defender prepares you for any unexpected and urgent safety or medical situation, wherever you are.
Here is how the Defender works:
When The Defender is triggered, a picture of a suspected attacker is taken, then immediately transferred to the iOS and Android App via Bluetooth. A compact and loud siren attracts attention and the high-strength pepper spray disrupts an attacker, leaving them immobilized. All of this occurs simultaneously as a message, including the attackers photo and GPS location, is sent directly to The Defender's Everywhere Security monitoring agents. Users control the information shared from within the app including a user profile with photo, medical conditions, and any relevant safety concerns that users will want to share with authorities. In addition to a robust array of self-defense features, The Defender includes a medical alert function. This service enables those with a medical condition to summon help with their precise GPS location.
Ryan McManus, Pangaea Service's Marketing Director stated, "Internet-connected devices are enhancing our lives in so many ways and from the beginning, we have been focused on security and self-defense. We have worked to design the simplest user experience that allows for protection, defense, and response with one push of a button."
The Defender went through several rounds of design revisions to achieve a form that is small yet sturdy with compact electronics to control the camera and Bluetooth. The Defender is in the final stages of product development with beta testing and manufacturing to begin immediately following a 45-day crowdfunding campaign on IndieGogo. The campaign launch date will be announced in the coming weeks.
McManus also stated, "The Defender sets a new standard in self-defense and security. By involving the community of supporters on Indiegogo, we will be able to make an even better product that is influenced by the crowd." The Defender is soliciting interest and feedback through Facebook and Twitter (http://www.Facebook.com/GetDefender http://www.Twitter.com/GetDefender).
For Retailers and Home Security companies interested in offering The Defender and Everywhere Security to their customers, Pangaea Services will be offering a limited number of multi-unit packages as part of their upcoming crowdfunding campaign.
To see The Defender in action, watch this video: https://vimeo.com/94617607.
To schedule a one-on-one press interview, contact The Defender's Marketing Director Ryan McManus: Ryan(at)GetTheDefender(dot)com.
To learn more about The Defender, visit http://www.GetTheDefender.com.
About Panagaea Services, Inc
Pangaea Services, Inc is an emerging innovator and maker of The Defender, the first smart personal protection system. Established in 2012, Pangaea Services, Inc develops internet-enhanced technology to protect and connect our modern lives.