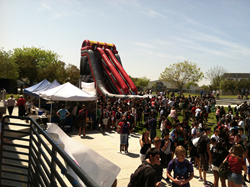 'George and staff at All For Fun are always a treat to have on the base. The product and services …are always the best' Chelsea Walker Lemoore Naval Air Station.
Fresno, California (PRWEB) May 09, 2014
Nestled in the heart of California's Central Valley is the crown jewel of event entertainment. All For Fun Rentals has brought hours of fun and major league memories to California special events for over 24 years. This year they are excited to launch a new website designed to showcase their unsurpassed collection of giant inflatables and premium party rentals. Along with a new look, All For Fun has added one of the industry's safest yet most exciting attractions, the No Bull Mechanical Bull, to their selection of quality event attractions. The bull joins Slidezilla, who stands more the 35 feet high and delivers monster fun for everyone. But that's just the beginning, festivals, schools and businesses of all sizes can bring their guests the thrills and excitement of All For Fun's 35 foot rock climbing wall, human hamster ball (zorbs) racing and Adrenaline Rush II, the World's First 360 degree obstacle course.
The team at All For Fun Rentals delivers much more than fun for all, they are known as, the best because their attractions are the biggest, the cleanest and the safest. Lead by owner George Fries the team provides a worry free event for everyone. From the first phone call to the event breakdown, event planners and school function organizers can relax and trust that the All For Fun team will wow their guests with their friendly service, attention to safety and hours of fun filled memories. No one can beat the quality of attractions and service All For Fun brings to every event.
The new All For Fun website now features a catalog of available attractions, valuable event planning information and new Sober Grad and school festival packages. These scalable packages offer flexibility and affordability for events of all sizes. Event planners at companies and organizations like Google, Fresno State University and Redbull know when they need to impress their guests the fun begins with All For Fun. See all they have to offer your next event at their new website All For Fun Rentals.
About
All For Fun is proud to be California's premier party rental business with over 24 years serving happy clients. All For Fun's mission is to provide clean, alternative fun in a positive environment while providing an exceptional service experience to all. They specialize in Sober Graduation, school dances, school carnivals, church youth groups, community festivals and corporate special events. Strategically located in the central valley they are able to serve corporate event and wedding planners throughout all of California delivering such attractions as: SLIDEZILLA, Adrenaline Rush II, rock climbing walls and human hamster balls. They are the industry's best at bringing unique entertainment to guests of all ages. All for fun guarantees to bring fun for all to any special event.