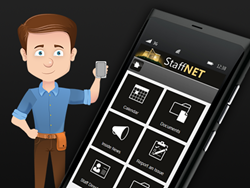 Manassas, VA (PRWEB) May 12, 2014
H3 Solutions announced today that its Mobile Entrée solution—used by Fortune 500 companies, federal government agencies and others—is now available in the Office 365 store: http://office.microsoft.com/en-us/store/mobile-entree-365-WA104323552.aspx
Mobile Entrée 365, available for $1.49 per user per month, makes accessing and using SharePoint more efficient and intuitive from all major smartphones and tablets including Android, Apple, Blackberry and Windows devices. The SharePoint app is easy to install and use, with rich functionality available minutes after installation.
Different from any other SharePoint mobility tool on the market, Mobile Entrée also boasts full customization and branding features as well as a full suite of developer tools. This allows savvy SharePoint users to customize the solution while enabling developers to build custom mobile apps within SharePoint such as price quote generators, mobile expense reporting apps, and many more.
Additional Mobile Entrée 365 features include:

Mobile Collaboration Tools: Users can access mobile optimized tools such as documents, tasks and announcements, as well as features not available through SharePoint's default mobile interface such as discussion boards and intuitive calendar views.
Mobile Search: A mobile search function allows users to more easily find the information they need such as a specific document, address or phone number. Users can also set up saved search views to show up on their mobile home screen.
Total Customization: Users are able to brand their mobile SharePoint site and tailor how content is organized and prioritized for display.
Microsoft Office 365 represents a major paradigm shift for businesses of all sizes by dramatically lowering the barrier to enterprise technology via the cloud. With the release of Mobile Entrée 365, H3 Solutions has fully embraced Microsoft's vision.
"Now businesses of all sizes can access the sophisticated enterprise technology larger companies have leveraged for years," said Joe Herres, executive vice president of technology. "If your organization is using SharePoint in Office 365, consider how Mobile Entrée 365 can boost productivity and make your processes more efficient."
To read independent reviews on Mobile Entrée, please visit SharePointReviews.com. Install Mobile Entrée 365 for free for 15 days: http://office.microsoft.com/en-us/store/mobile-entree-365-WA104323552.aspx. To learn more, visit http://www.mobileentree.com or call (855) 464-5914.
About H3 Solutions
Founded in 2006, H3 Solutions is known for its expertise in Microsoft SharePoint technologies. A Microsoft Gold Certified Partner, H3 Solutions provides consulting for clients in both the public and private sectors. H3 Solutions is likely best known for the creation of the mobile application framework for SharePoint, Mobile Entrée® (the industry's first SharePoint-integrated development platform for mobile applications that allows cross-device deployment). H3 Solutions is based in Virginia, and is privately held.