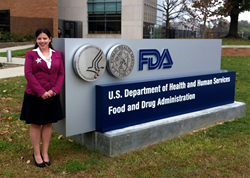 There is still work to be done when it comes to treating and curing PAH, but we are confident that we have the right people at the table. We applaud FDA for taking steps to listen to and learn from PAH patients.
Silver Spring, MD (PRWEB) May 12, 2014
On Tuesday, May 13, the Food and Drug Administration and the Pulmonary Hypertension Association will host a unique conversation between FDA drug reviewers and pulmonary arterial hypertension (PAH) patients. PAH – a deadly, incurable lung condition – is one of only sixteen disease states FDA will focus on during the first three years of the Patient Focused Drug Development Initiative.
Although pulmonary arterial hypertension is rare, there are twelve treatments available. That's as many or more treatments as all but two of the 7,000 rare diseases in the U.S. Three treatments were approved in the fourth quarter of 2014
"The relationships between patients, government and industry within the PAH community are a model for others," noted Rino Aldrighetti, President of the Pulmonary Hypertension Association. "There is still work to be done when it comes to treating and curing PAH, but we are confident that we have the right people at the table. We applaud FDA for taking steps to listen to and learn from PAH patients."
Meeting Information for the Press
What: Food and Drug Administration meeting on pulmonary arterial hypertension
Who: Public meeting with a focus on the experiences of individuals living with pulmonary arterial hypertension. 400+ currently registered in-person and via webcast
When: Tuesday, May 13, 1:00-5:00 ET
Where: FDA White Oak Campus: 10903 New Hampshire Avenue; Building 31; Silver Spring, MD 20993