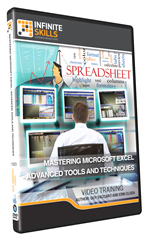 Learn Mastering Microsoft Excel - Advanced Tools and Techniques at your own speed
(PRWEB) May 09, 2014
Software training firm Infinite Skills Inc. this week released its "Mastering Microsoft Excel - Advanced Tools and Techniques," an extended course combining the perspective of the company's keynote Excel instructors into a format for its DVD and direct download companies.
Guy Vaccaro is an accomplished Excel trainer who focuses on advanced concepts in Excel. His courses range from basic functionality to advanced concepts in charts and tables, as well as Excel's underlying programming basis in Visual Basic for Applications.
Erin Olsen provides the perspective of her continuing practice as both an entrepreneur and Excel expert and teacher, offering lessons focused on day to day tasks that are common in the business world.
Master Microsoft Excel - Advanced Tools and Techniques Training Video - Streaming
This course, only available as a unit in DVD or by download, combines several shorter courses available separately in the Infinite Skills Learning Library that together provide a comprehensive look at the combined resources available for learning advanced Excel skills.
Vaccaro looks at ways to increase productivity with shortcuts and key commands, and ways to organize data to help users work faster and more efficiently.
Olsen provides detailed coverage of worksheet management, data importing, and later goes in-depth with pivot tables and their capacity for managing large amounts of data.
Vaccaro concludes with a look at charts and advanced chart formatting techniques.
According to Sales Director Colin Boyd, "With this title, our DVD and download customers can access the best of our online content for advanced Excel use, particularly in a business environment through the combined efforts of our two key Excel instructors.
Free demo videos and a full list of course contents can be found on the Master Microsoft Excel - Advanced Tools and Techniques training page of the Infinite Skills website:
http://www.infiniteskills.com/training/master-microsoft-excel-advanced-tools-and-techniques.html
Infinite Skills offers its Master Microsoft Excel - Advanced Tools and Techniques Training Video either as a DVD or a direct download from the company website at a retail price of $124.95. Though the compatibility of programs varies, all Infinite Skills titles and formats are compatible with both Mac and Windows operating systems, and shipping is available around the globe. Additionally, Infinite Skills tutorials are supported by project files which correspond to examples in the videos.
About Infinite Skills Inc.
A leader in the field of software training, Infinite Skills designs its courses on a task-oriented model, teaching complex skills by providing hands-on examples and guiding users as they carry out essential functions. Infinite Skills offers a wide range of software titles available as DVDs, digital downloads, and in iPad editions. Infinite Skills now offers a subscription service, providing access to all its training content for a monthly fee, keeping with company's aim of delivering professional training to customers anywhere they want to learn.