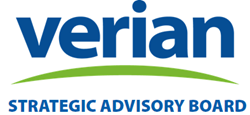 We are excited to have this talented and esteemed team together this year.
Charlotte, NC (PRWEB) May 13, 2014
Verian today announced the executives accepting a seat on Verian's Strategic Advisory Board (SAB). The Board is comprised of executives who have led strategic purchasing transformations in their organizations and have shown interest in helping shape the future of Verian's product offerings for mutual benefit.
The following executives will be joining the Verian Strategic Advisory Board:

Cynthia Klustner, Vice President, Controller, First Tech Federal Credit Union
Michelle Johnson, Senior Vice President, Chief Information Officer, Freeman Audio Visual
Norris Jackman, Chief Procurement Officer, First Horizon National Corporation
Heidi Murphy, Director of Purchasing, YMCA of Greater Twin Cities
Valerie Gaither, Vice President of Procurement & Fleet Administration, Envision Healthcare
Greg Summers, Finance Director, DCOR, LLC
"We are excited to have this talented and esteemed team together this year," said Tehseen Dahya, CEO of Verian. "Our mission is to deliver the industry's best purchase-to-pay system to organizations who share the common challenges of our Board members. The innovations we bring to market as a result of their input will give them strategic benefit, and allow us to offer those benefits to more companies."
To hear the strategic feedback report from Verian's Strategic Advisory Board, join their session at Verian's ELEVATE Global Customer Conference, September 24-26, 2014 in Charlotte, NC.
About Verian
At Verian, we help organizations achieve world class cost control by putting all spending details at their fingertips in our broad, comprehensive purchase to pay software suite. With over 200 successful implementations, we get it right the first time, configuring software solutions that address companies' unique challenges and industry specific complexities. We drive value beyond implementation by helping organizations bring every pocket of spend under management with our proven See-Manage-Save™ approach. Learn more by visiting our website at Verian.com, or by reading our Verian blog. Stay current on Verian happenings by following us in social media on LinkedIn, Facebook, or Twitter.
Media Contact:
J. Shannon Lowe, Marketing Communications Manager
704-971-6992, slowe(at)verian(dot)com