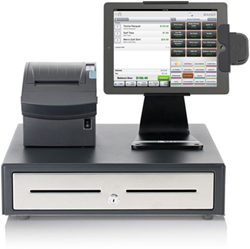 Irving, Texas (PRWEB) May 13, 2014
NTC Texas, a payment processor representing Elavon Global Acquiring Solutions throughout the United States, now offers NCR Silver iPad point of sale (POS) system. With the latest in iPad POS technology, NCR Silver gives businesses an easy to use, full-featured platform for accepting payments integrated with powerful customer engagement tools to help owners manage and grow their business.
NCR Silver turns the sleek technology of an iPad into an integrated system that manages payments, email marketing, social media marketing, customer loyalty programs, inventory, sales forecasting and reporting. With built-in accountability, users on the front end can manage payments and customers, while managers and business owners are able to track business on the backend from any computer with internet access. The integrated detailed reporting makes NCR Silver an ideal solution for businesses with multiple locations or sales persons out in the field.
"We take pride in offering the best products on the market to our customers," said Linda Borek, President and CEO at NTC Texas. "NCR Silver is by far one of the most complete iPad POS solutions on the market today and offers unbelievable value to business owners."
With easy to manage customer loyalty programs and simple reports and analytics, NCR Silver makes it easy to track customer behavior and equips businesses with valuable knowledge about which products and services sell best. Businesses save time and money creating powerful marketing campaigns with integrated email and social media tools built in. Other capabilities such as item modifiers, customizable menus, email receipts and inventory management give staff a complete set of tools to keep costs down and profits high.
NCR Silver customers will receive their first mobile card reader free through NTC Texas for a limited time. NTC Texas representatives are available to conduct live demonstrations. For more information contact NTC Texas by clicking here.
About NTC Texas:
Established in 2004, NTC Texas located in Las Colinas, Texas is a merchant service provider representing Elavon Global Acquiring Solutions throughout the United States and Canada. As a team, NTC Texas and Elavon deliver the most powerful transaction processing package in the industry with a proprietary network, fully redundant systems, superior customer service and a broad spectrum of products. Our credit card processing and other merchant services help increase revenues and decrease costs for businesses in healthcare, manufacturing, and many other industries.