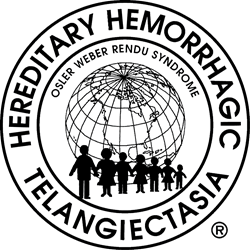 'Nine in ten individuals affected by HHT are unaware that they have it, putting them at risk for sudden internal bleeding, stroke and disability, and even death.' — U.S. Rep. Jim Himes of Connecticut
Washington, DC (PRWEB) May 11, 2014
U.S. Rep. Jim Himes of Connecticut and U.S. Rep. Jim Gerlach of Pennsylvania on May 7, 2014 introduced bipartisan legislation that would, for the first time, enable the HHT Clinical and Research Consortium to conduct or support basic, translational and clinical research on HHT disease across several NIH Institutes. As the advocate and steward for patients and families affected by HHT disease, the HHT Foundation applauds the congressmen for their efforts and urges support for H.R. 4592.
Hereditary Hemorrhagic Telangiectasia (HHT) is a condition that affects one in 5000 Americans and is largely undiagnosed. Symptoms of HHT often masquerade as other diseases, delaying diagnosis and needlessly endangering lives. HHT is a vascular genetic disorder resulting in artery-vein malformations (AVMs) that can lead to disabling and catastrophic events due to bleeding into major organs such as the lungs and brain. Unrelenting, HHT affects individuals of all ages, races and genders — unless detected and treated — and can cause sudden death. Life-threatening affects of HHT, including stroke, have been identified in asymptomatic children under 12 years of age. Early detection screening for HHT and use of readily available treatment can prevent premature deaths and long-term health complications.
The Centers for Disease Control and Prevention (CDC), under this legislation, will support surveillance of HHT. These efforts have great potential for not only for detection leading to early intervention in families with HHT, but also improved awareness of HHT prevalence and new knowledge about factors affecting risk of complications from HHT.
"Expanding research and broadening our understanding of HHT hopefully will lead to treatment breakthroughs that can save lives," said U.S. Rep. Jim Gerlach. "With the greater awareness of HHT, early detection screenings and national HHT research database this bipartisan legislation provides, we also can make significant progress in ending the suffering for those living with HHT and their families."
"Nine in ten individuals affected by HHT are unaware that they have it, putting them at risk for sudden internal bleeding, stroke and disability, and even death. The HHT Data and Diagnosis Act, which I was pleased to introduce with Representative Gerlach, will support much-needed federal research and surveillance efforts to improve HHT early diagnosis and treatment. Through the work of the NIH and CDC, we can help reduce suffering for HHT patients, further our nation's strong commitment to medical research, and lower healthcare costs." — U.S. Rep. Jim Himes
The HHT DATA Act (H.R. 4592) would:

Establish a resource center for health professionals;
Support outcomes research studies to establish evidence-based consensus guidelines;
Provide for cost-effectiveness analysis of treating HHT, including reduced expenditures from the Medicare and Medicaid programs; and
Enable the HHT Clinical and Research Consortium to support training for scientists and health professionals and HHT genetic testing research.
The HHT Foundation International is the ONLY organization in the world committed to bringing together the best thought leaders, medical experts and patient advocates working collaboratively to find a cure for HHT. The Foundation's website, HHT.org, is the top resource for patients to find the most up-to-date news and information in the treatment of HHT disease.