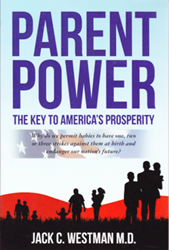 Parenthood is the foundation of our society.
Madison, Wisconsin (PRWEB) May 13, 2014
Keith Robinson and Angel Harris' book "The Broken Compass: Parental Involvement with Children's Education" reports their research finding that most forms of parental involvement ─ like observing a child's class, contacting a school about a child's behavior, helping to decide a child's high school courses, or helping a child with homework ─ do not improve student achievement. In some cases, they actually hinder it. This finding exemplifies the ways in which parents can both promote and undermine the development of productive citizens as described in Dr. Jack Westman's book "Parent Power: the Key to America's Prosperity".
Robinson and Harris found that regardless of a family's social class, racial or ethnic background, or a child's grade level, consistent homework help almost never improved test scores or grades. Even more surprising was that when parents regularly helped with homework, their kids usually performed worse.
Robinson and Harris show that parents are critical for how well their children perform in school when they communicate the value of schooling from early in their children's lives and reinforcing it over time. But schools should move away from giving the blanket message to parents that they need to be more involved and focus instead on helping parents find specific, creative ways to communicate the value of schooling tailored to their children's ages. Future research should investigate how parental involvement can be more effective, but, until then, parents who have been less involved or who feel uncertain about how they should be involved should not be stigmatized.
In Parent Power: The Key to America's Prosperity, Dr. Westman puts his finger on the basic problem: our society doesn't recognize parenthood as a career. It doesn't formally acknowledge that childrearing is skilled, hands-on work in which parents and children bond and grow together. It automatically awards full parental rights to any genetic parent regardless of age or ability until the child is damaged by the parent's neglect or abuse and parental rights are terminated by a court.
Nonetheless, parenthood is a lifelong career. Like any career, parenthood has its frustrations and rewards. Unlike any other career, it's based on affectionate attachment bonds. For most parents, parenthood is just as important as a paid career. This is especially evident during a person's later years. Louis Terman's Stanford study of eminent women and men found that, as they looked back on their lives, they valued family relationships over their professional careers.
The implications of parenthood as a lifelong career need to be faced. Family life is changing rapidly in the face of increasing maternal employment, father absence, and cultural diversity. Many parents need more than one income to make ends meet. At the same time, children are being treated as commodities by reimbursed childcare systems. All of this takes place alongside increasing ambivalence about committed relationships and questions about who is the parent of a child conceived through IVF technologies.
Having "a parent" in itself means nothing to babies, children, and adolescents. Anyone past puberty can be a parent…a mother or a father, but to enter parenthood is to have a career with a lifelong commitment to a daughter or son. Parenthood means everything to babies, children, and adolescents. They need competent parents who can handle its responsibilities. Unfortunately, our society does not distinguish between merely being a mother or a father and motherhood and fatherhood. Consequently, it fails to ensure that our children have competent parents.
What's more, our society doesn't formally articulate parenthood standards except for adoptive and foster parents. However, our culture does hold expectations for people who give birth to a child. The vast majority of children are raised by parents who fulfill these cultural expectations by building and maintaining parent-child bonds, but an increasing number are not. Pediatrician T. Berry Brazelton and child psychiatrist Stanley Greenspan suggested in their book The Irreducible Needs of Children that this underlies the general fragility of relationships in our society. Adults who didn't have caring, intimate relationships with their parents find sustaining committed relationships, including with spouses and offspring, difficult.
Because committed relationships are vital to our society's integrity and prosperity, we must articulate our cultural expectations of parenthood, the source of committed relationships. Implicit cultural expectations include a children's moral right to competent parents and their obligation to respect and cooperate with their parents. These cultural expectations have evolved into legal expectations codified in child abuse and neglect statutes. Because society has not sufficiently valued parenthood, courts are increasingly involved in articulating our cultural expectations of parenthood.