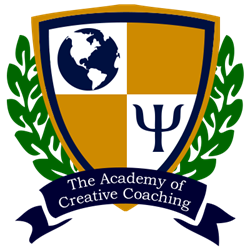 A good coach is an expert at helping others create positive and lasting change.
Atlanta, GA & Milwaukee, WI (PRWEB) May 10, 2014
The Academy of Creative Coaching announces the launching of its new professional coach certification program, and is accepting applications for its upcoming June cohort. The program offers seven specializations, including Executive Coaching, Health and Wellness Coaching, Relationship Coaching, Cultural Competency Coaching, Educational Coaching, Spiritual Coaching, and Life Coaching.
According to a Manchester Consulting Group study of Fortune 100 executives, the Economic Times reports, "Executive coaching resulted in a return on investment (ROI) of almost six times the program cost as well as a 77% improvement in relationships, 67% improvement in teamwork, 61% improvement in job satisfaction and 48% improvement in quality." Additionally, a study of Fortune 500 telecommunications companies by MatrixGlobal found executive coaching resulted in a 529% ROI. Additionally, wellness programs that include coaching have been shown to provide approximately a 300% ROI. In fact, in a 2004 survey by Right Management Consultants, 86% of the most successful companies said they used coaching to sharpen the skills of individuals who have been identified as future organizational leaders.
The Academy of Creative Coaching (ACC) was founded and developed by two women who know education – Dr. Pamela Antoinette Larde, author and professor of research, and Dr. Sony Shepherd, author of 17 books and international expert on school safety. "There is a growing number of programs offering certification, but many of them lack quality and integrity. It was important to us to develop a program that not only offered certification in an efficient way, but one that also provided a top-notch educational experience. We want to graduate coaches that truly feel empowered to change the world," says Dr. Larde, President of ACC.
ACC offers a full certification program with options to complete 125 or 60 training hours in either an online or hybrid format. Program length ranges from 6 weeks to 6 months and is designed to accommodate a busy life of family, work, and play. With tuition offered at competitive rates and flexible payment options, ACC is committed to offering financial options that can make the pursuit of coach certification possible. The academy's curriculum incorporates its unique Intelligence, Inspiration, InnovationTM philosophy, also known as The Creative ApproachTM – a compelling fusion of theory that incorporates the research of Dr. Larde (self-determination, leadership, and post-traumatic growth) and Dr. Shepherd (the link between creativity and intelligence).
ACC is now accepting applications for its upcoming cohort, which begins June 6 in Atlanta, Milwaukee, and online. Representatives will be available to answer questions at the following upcoming information sessions:
Online Information Session
Monday, May 12, 2014
7:00pm
Webinar via Meeting Burner
Register Here
On-Site Information Session
Sunday, May 18, 2014
3:00pm
Chow Bing
349 Decatur Street
Atlanta, GA
Register Here
Our next online and hybrid cohorts begin June 6. To inquire about enrolling, contact our Executive Director of Student Affairs:
Dr. Rhonda Anderson
Phone: 1.800.861.8490
Email: info(at)academyofcreativecoaching(dot)com