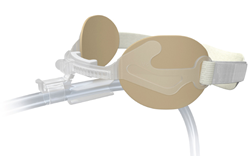 With the AnchorFast Guard tube fastener with integrated tube protection, we're taking innovation, and confidence securing ET tubes, one step further.
Libertyville, IL (PRWEB) May 14, 2014
Hollister Incorporated announced today the launch of the AnchorFast Guard™ oral endotracheal tube fastener with integrated tube protection. The product is designed to help clinicians put patients first – with confidence. Recognizing the fact that every patient dependent on a ventilator is vulnerable and that ventilator-associated risks such as tube occlusions can result in increased length of stays and increased hospital costs, Hollister added this new product to the AnchorFast tube fastener line.
"AnchorFast Guard provides the potential to improve patient outcomes and may increase efficiencies at the same time," said Timothy Goedvolk, RN, BScN. The AnchorFast Guard device is the right choice for critical care teams who want an extra measure of protection for their patients. With the addition of integrated tube protection to the trusted securement system, the AnchorFast Guard tube fastener can help to bring a new level of confidence to the ICU. Unlike separate bite blocks, the integrated tube protection sleeve is there before it's needed, helping to prevent occlusion without interfering with routine care.
"Hollister introduced the first oral endotracheal tube fastener with an innovative gliding shuttle. Thousands of hospitals across the globe have adopted the AnchorFast device as the right choice for securing ET tubes. Now, we're taking that innovation – and that confidence – one step further with the AnchorFast Guard tube fastener with integrated tube protection," said Michael Gresavage, Regional Vice President, North America.
For more information, contact Wil Walker at 847-680-1000 or contact your Hollister sales representative by calling 1-888-740-8999. You can also visit http://anchorfast1.com/.
About Hollister Incorporated
Hollister Incorporated is an independently owned company that develops, manufactures, and markets healthcare products worldwide. The company manufactures products for ostomy care, continence care, critical care, and wound care, and also develops educational support materials for patients and healthcare professionals. Hollister has been serving healthcare professionals, patients, and consumers for over ninety years, and is committed to making life more rewarding and dignified for people who use the company's products and services.