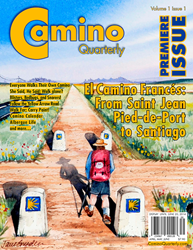 (PRWEB) May 10, 2014
The Camino de Santiago (also known as The Way of St. James) is a 500-mile walk across Spain, which has generated interest all over the world. People who have made the walk want to share their experiences while others are fascinated by this ongoing pilgrimage and want to learn all they can about it.
This route leads to the shrine of the apostle St. James the Greater in the Cathedral of Santiago de Compostela in northwestern Spain. Tradition has it that the remains of St. James are entombed there.
"It originated as a religious pilgrimage but today it is a melting pot of spiritual beliefs, attracting people from every country in the world," said Chris Yavelow of Asheville, N.C., editor-in-chief of the Camino Quarterly, a print magazine solely dedicated to this famous walk.
The magazine is the first English print magazine about hiking the Camino de Santiago. Of the 215,000 who completed the walk last year, 30,000 were English-speaking, a 27 percent increase over 2012. Official records from hostels and pilgrim offices indicate that another 120,000 English-speakers were on the path, but did not request completion certificates.
Yavelow, his wife, Laura, and colleague, Rebecca Gallo, made the walk in 2012 and found it to be a very moving experience. "The Camino de Santiago inspires many people to reflect on their experience, through writing, lecturing, filmmaking or music and art," explained Laura.
And with more English-speaking people showing interest, there is an ever-growing market for an English magazine that covers the Camino. Yavelow, who has 30 years of publishing experience, released a 28-page preview issue on April 1 and needs additional funding to produce the full-size version on a regular basis.
The preview edition can be viewed at Preview.CaminoQuarterly.com.
To generate the start-up capital, Yavelow has launched a Kickstarter campaign that can be viewed at Launch.CaminoQuarterly.com. Those who would like to support this project can make donations of any amount through the Kickstarter page.
Pledges of $20 will receive a one-year subscription to the magazine. Larger donations are eligible for additional perks such as patches, hand-held digital gear scales, note cards with original paintings, and an interview that appears in the magazine.
The Camino Quarterly will include information about preparing for the walk (routes, gear, packing, etc.) as well as an events calendar and a "reflections" section, written by those who have completed the walk.
"It's a forum for writers, artists, photographers, poets and artists to share their Camino-inspired work," said Rebecca.
For additional information, visit Launch.CaminoQuarterly.com or the Camino Quarterly Facebook page, facebook.com/CaminoQuarterly.
Yavelow can be reached directly at Chris(at)CaminoQuarterly(dot)com.