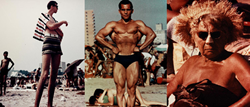 (PRWEB) May 21, 2014
The Museum of the City of New York will present "In a World of Their Own: Coney Island Photographs by Aaron Rose, 1961-1963," the first exhibition of the esteemed photographer's images of sunbathers and swimmers on New York City's most famous beach. The diversity of people—and what they are doing—is immediately arresting, as the photographs capture intimate portraits of regular and uninhibited New Yorkers in a world of their own. Featuring 70 unseen photographs, the exhibition will include one section showcasing individuals and couples and another section that features the crowded beach and onlookers on the Coney Island boardwalk. "In a World of Their Own" opened on Friday, May 9 and will remain on view until Sunday, August 3, 2014.
Paul Goldberger once compared Aaron Rose's work to "Emily Dickenson's poems inside her trunk in Amherst, a trove of art as yet unseen by the public." The City Museum has had the privilege of displaying Rose's work once before, in "The Last Days of Penn Station: Photographs by Aaron Rose," in 2002. "In a World of Their Own" represents an utterly different perspective on New Yorkers' lives, made up entirely of photographs of beach-goers, escaping what were, in all likelihood, un-air-conditioned apartments for a few hours of sand and waves. When viewed together, Rose's photographs showcase the rich mix of races, ethnicities, sexualities, and body types on display on the sandy landscape of Coney Island—described by noted photography critic Vince Aletti as "a place where privacy is a state of mind."
"'In a World of Their Own' shows New Yorkers in an unusually carefree environment, pushing the bounds of privacy," says Susan Henshaw Jones, the Ronay Menschel Director of the Museum of the City of New York. "Rose's photographs capture the vibrant and diverse mix of races, ethnicities, genders, and body types that create the city of New York: a literal 'sun-baked melting pot.'"
As Aletti has described, Rose's Coney Island photographs are remarkably intimate portraits of people relaxing as if in the privacy of their own homes: "Roaming the Coney Island beach, Rose was careful not to burst that bubble. Always moving, holding his camera at his side, and looking anywhere but at his subjects, he was able to catch people at ease and unaware, often at close range."
A New Yorker's Perspective
Aaron Rose was born in New York in the early 1940s and has lived in the city for his entire life. For more than 60 years, Rose has explored not just the city, but also the basic elements of photography, light, and chemistry to create a unique style of visual imagery. Rose had already produced more than 25,000 photographs—each work printed only once—when he was discovered by the art world in the 1990s. These photographs were hidden from everyone except close friends and family until he was asked to show a small selection of photographs at the Whitney Biennial in 1997. He also displayed a small collection of his work at the Paul Kasmin Gallery entitled "Aaron Rose: Unique Photographs" in 1997.
"Aaron Rose is in the pantheon of photographers—Weegee, Bruce Davidson, Lisette Model—who capture New Yorkers through a highly personalized and deeply artistic lens," said Sean Corcoran, the Curator of Prints & Photographs at the City Museum. "'In a World of Their Own' can help us forget the long winter behind us, look forward to summer, and also honor and appreciate this talented New York artist."
A Prodigy in the Photography World
Like Times Square, Fifth Avenue, and the old Lower East Side, Coney Island has captured the imagination of New York photographers for decades. Aletti has said, "Stepping onto the sand at Coney Island is like stepping into history and going up against Weegee, Lisette Model, Leon Levinstein, Sid Grossman, Bruce Davidson, Richard Avedon, and everyone else who's been drawn to that throng of half-naked humanity. When Aaron Rose took up the challenge in his twenties, he had other precedents in mind—Reginald Marsh and the artists of the Ashcan School—but his results, have a place in photography's history too."
Rose is considered a photographer's photographer: the process of making the photographs is as important to him as the final product. In an era when black-and-white photography was widespread, Rose took what he learned during his short stint in the commercial sector to create highly unusual prints. Rose seized upon a new technology—chromogenic color film—for his Coney Island photographs and he pushed the boundaries of this new process by increasing the speed and grain of the film to make images that would not otherwise be possible. Playing with special chemical processes and color Rose's photographs capture the heat of the summer, and give them what Aletti has called the "burnished glow of a fresh tan" so reminiscent of a day at the beach.
About the Museum of the City of New York
The Museum of the City of New York celebrates and interprets the city, educating the public about its distinctive character, especially its heritage of diversity, opportunity, and perpetual transformation. Founded in 1923 as a private, nonprofit corporation, the Museum connects the past, present, and future of New York City. It serves the people of New York and visitors from around the world through exhibitions, school and public programs, publications, and collections. For more information, visit http://www.mcny.org.
Media Contacts
Kate Lindquist / Justyna Zajac | (212) 534-1672 | pressoffice(at)mcny(dot)org
Brittnie Mabry / (646) 490-6446 | brittnie(at)philandcompany(dot)com
###