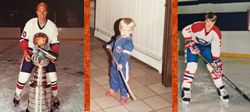 (PRWEB) May 10, 2014
Brett Henning knows a little something about hockey so we should probably listen to what he says.
His father, Lorne, won two Stanley Cups while playing for the New York Islanders and Brett was a very good college player at Notre Dame. He was a ninth-round pick in the 1999 NHL draft but a career-ending neck injury ended his hopes of playing professionally.
These days, he concentrates on coaching and developing hockey training aids. Henning's latest innovation is the Dangle Donut, a device that attaches to a hockey stick and helps players improve their stickhandling.
"I grew up with the game of hockey," said Henning. "Even though I'm not playing competitively anymore, I love talking, watching, and everything that has to do with hockey. When I got injured, I started to discover new training methods and ways to coach youngsters."
He hung around NHL locker rooms when his father was playing and coaching. "I remember watching one of the greatest stickhandlers of our era, Pierre Turgeon, warm up before practice and games with a weighted blade," Henning recalled. "He would tape three pucks to each side of the blade and stickhandle a tennis ball in the hallways outside the locker room.
"As I've grown older I noticed that all the great stickhandlers warm up with a weighted contraption. And I thought, 'There must be a better way.'"
There is. It's the Dangle Donut. This hockey training aid fits on the stick and provides a progressively weighted training regimen. It's lightweight and durable.
The Dangle Donut, which can be used for on-ice and off-ice training, is a plastic device that holds two pucks on each side of the stick. It enables players to gradually increase the weight. "It's like the donut for a baseball bat," said Henning. "You develop lightning-fast hands when you take off the Dangle Donut and return to normal."
He needs $12,000 to pay for the steel mold that shapes the Dangle Donut and the plastic needed for the first production run. To generate this capital, Henning has launched a Kickstarter campaign, which can be viewed at http://www.kickstarter.com/projects/bhenning11/hockey-stickhandling-aid-dangle-donut.
Donations of any amount are welcome. A pledge of just $5 receives a PDF copy of Henning's book, 7 Pre-Game Habits. Backers making larger contributions will receive Dangle Donuts, specially weighted pucks and video coaching tips.
The Dangle Donut can fit on any stick – left, right, curved, straight, youth or senior. "It's going to help players have more success on the ice and ultimately have more fun," Henning said.
For additional information, visit http://www.kickstarter.com/projects/bhenning11/hockey-stickhandling-aid-dangle-donut or contact Henning directly at bhenning11(at)gmail(dot)com.