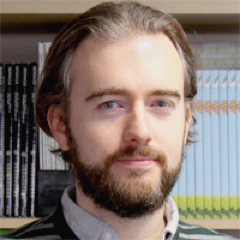 "With Gridset, there's a universe of layout possibilities to explore – guided, of course, by the requirements of your content." – Nathan Ford, creative director for Gridset at Monotype
Newport, Wales (PRWEB) May 12, 2014
Nathan Ford, creative director for Monotype's Gridset™ responsive layout tool, will present at the Port 80 Web design conference. His talk, "Mastering the Dark Art of Fluid Layout," aims to demystify fluid Web layouts and make designing for the Web a breeze. The presentation will take place on Friday, May 16, 2014, at 11:00 a.m., at the University of South Wales in Newport, Wales.
"Styling a fluid grid layout requires a good understanding of CSS," said Ford. "With Gridset, there's a universe of layout possibilities to explore – guided, of course, by the requirements of your content."
Ford will show some of the ways traditional grids and other layout methods on the Web are hindering designs and go through ways to build with fluidity from the start. He will demonstrate how to derive bespoke grid systems from content to strengthen the connectedness of device, content and layout. Attendees will learn how to adapt the layout as needed to maintain smart compositional decisions across an ever-changing landscape.
For more information on Ford's presentation at Port 80, visit http://port80events.co.uk/.
About Monotype
Monotype is a leading global provider of typefaces, technology and expertise that enable the best user experience and ensure brand integrity. Based in Woburn, Mass., Monotype provides customers worldwide with typeface solutions for a broad range of creative applications and consumer devices. The company's libraries and e-commerce sites are home to many of the most widely used typefaces – including the Helvetica®, Frutiger and Univers® families – as well as the next generation of type designs. Further information is available at http://www.monotype.com.
Monotype, Helvetica and Frutiger are trademarks of Monotype Imaging Inc. registered in the U.S. Patent and Trademark Office and may be registered in certain jurisdictions. Gridset is a trademark of Monotype Imaging Inc. Univers is a trademark of Monotype GmbH registered in the U.S. Patent and Trademark Office and may be registered in certain jurisdictions. All other trademarks are the property of their respective owners. ©2014 Monotype Imaging Holdings Inc. All rights reserved.