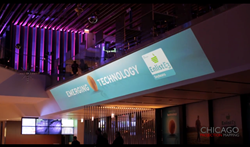 This is a service for companies who want to make their brand the buzz of the event, and leave their competition scrambling to catch up. - J Matthew Nix, Project Lead for Chicago Projection Mapping
Chicago, IL (PRWEB) May 12, 2014
Chicago Projection Mapping (CPM), a Chicagoland-based content and 3D projection company, announced today the launch of new "Live Event Takeover" mapping experiences. Building upon interest from CPM's recent display at the ASTA Seed Expo, this new service allows interested clients to "takeover" large-scale interior surfaces, such as walls, stairways, and ceilings, in addition to existing projection-ready surfaces and staging.
Typically, conventional live event thinking had relied on tired promotional tropes - posters on walls, giveaway items, and temporary visual displays. Disappointed by the opportunities available on the market for clients, Chicago Projection Mapping set out to reinvent the possibilities behind live promotion for brands and firms. Using building blocks from their acclaimed "Banner Projection" at ASTA 2013, the team at CPM has spent months developing a proprietary scaling system that has opened new horizons and applications for projection in a live setting.
Venue permitting, Chicago Projection Mapping can now offer interior "takeovers" of rated surfaces with infinitely customizable projection. This means that branding, identifiers, and animated content can appear anywhere from five to fifty feet tall in an interior ballroom, live event, trade show, or corporate meeting environment. CPM's dedicated team of mapping professionals has designed the system for the utmost flexibility in setup areas, including cutting-edge applications for ceilings, lobby spaces, trade show booths, and unconventional surfaces such as fountains, pools, or glass windows. Whether big or small, CPM brings the power of the live event industry's hottest medium to forward-thinking clients, agencies, and event planners. Chicago Projection Mapping is offering these takeover services for Chicagoland hotels and convention venues starting immediately, including Rosemont Convention Center and McCormick Place, with national service availability beginning in June.
"We've seen the power that projection mapping has in a corporate live show environment," said J Matthew Nix, project lead for Chicago Projection Mapping. "This is a service for companies who want to make their brand the buzz of the event, and leave their competition scrambling to catch up."
Chicago Projection Mapping continues to stand apart from conventional video mapping groups. While CPM excels at "traditional" forms of projection mapping, such as exterior architectural mapping and marquee/gala events, the firm is quickly becoming a market leader in combining experimental technology with projection mapping, pushing the boundaries of interactivity within the industry. For inquiries or a free quote, please email info(at)ChicagoProjectionMapping(dot)com.
About Chicago Projection Mapping: Based in Chicago, IL, Chicago Projection Mapping is a full service content creation and 3D projection mapping company, serving the corporate, event, meeting, and convention sectors. For more information, please visit http://www.ChicagoProjectionMapping.com, or call 630-620-0000.