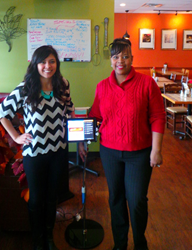 The platform is a modern way to collect emails and reward customers.-- I like how it allows me to interact with my customers. - Carmen Danzy, Owner of Season's Restaurant
Merriville, IN (PRWEB) May 11, 2014
Season's Restaurant is a Cajun and Southern Cuisine styled restaurant, located in Merrillville, Indiana. Executive Chef Hardin Danzy along with his lovely wife Carmen Danzy, Event Coordinator, have over 19 years of experience in the restaurant/catering and service industry. With a great passion for quality food coupled with professional customer service, they were led to start a business and Season's Catering was born. Critics have been raving ever since and guests agree that Season's food is soul good!
Season's mission is to provide their valued guests with a clean and inviting atmosphere with outstanding customer service and exceptional authentic home style cooking at reasonable prices. Before Season's, there were no restaurants like this in the area. The Danzy's wanted to stand out and have a place where customers can get authentic Cajun cuisine and enjoy their atmosphere with live Jazz performances on weekends.
Recently, Season's Restaurant has partnered with RewardMyWay (RMW), a technology platform that allows merchants to increase customer visits through rewards and special offers. Merchants featured on RewardMyWay have customized loyalty plans that are unique to their businesses, marketed via social and mobile commerce tools that build brand exposure and provide real-time cash visibility into purchases. This is a way to entice consumers to come back to your specific business to build up their points and to be rewarded for doing so.
"The platform is a modern way to collect emails and reward customers. Customers see the iPad and immediately ask or play with it to see what the system is because they were intrigued by the technology," stated Carmen Danzy. She specifically likes how it allows her to interact with her customers by sending out emails reminding them about events going on that weekend that they otherwise might be unaware of.
Stephanie Lemus, Mobile Marketing Campaign Specialist for RewardMyWay, stated, "I enjoy working with Carmen because she takes the time to understand our product and uses it to the most of her ability. She has her staff interact with the customer by collecting emails and reminding returning customers to check in to receive their points. She also allows Siobhan, our Social Media Concierge, and myself to post freely on her wall about upcoming events and specials for food that are going on at Season's. Carmen and her husband run a great restaurant with delicious food and an engaging staff!"