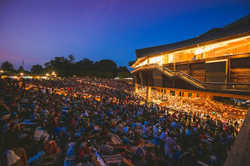 Vienna, Virginia (PRWEB) May 09, 2014
A Prairie Home Companion
with Garrison Keillor
and Special Guests: Heather Masse & Vince Giordano and the Nighthawks
In association with
Minnesota Public Radio & WAMU 88.5 FM
Friday, May 23, 2014 at 8 pm
Saturday, May 24, 2014 at 5:45 p.m.
$25-$65
A Prairie Home Companion returns to Wolf Trap with the nation's favorite radio host, Garrison Keillor. The variety show, which airs live every Saturday night, features an assortment of musical guests, comedy sketches, and Garrison Keillor's signature monologue "The News from Lake Wobegon," for which Keillor won a Grammy Award in 1988. Keillor's other awards include a National Humanities Medal from the National Endowment for the Humanities and a Medal for Spoken Language from the American Academy of Arts and Letters. A Prairie Home Companion has grown from humble beginnings—its premiere show in 1974 had an audience of only 12 people, but today, it is broadcast on more than 600 public radio stations and has an audience of more than 4 million listeners every week.
Video: Garrison Keillor – "Ten Things to Know Before You Move to Duluth"
Grammy Award-winning Vince Giordano and the Nighthawks are dedicated to keeping big band music alive and swinging in the 21st century. The group, under the direction of arranger and lead vocalist Vince Giordano, has been featured on numerous soundtracks for major motion pictures and television series, including The Cotton Club, The Aviator, Finding Forrester, and HBO's Boardwalk Empire. Based in New York City, this one-of-a-kind band entertains audiences weekly at Iguana Restaurant in the heart of Midtown.
Heather Maase, a regular featured performer on A Prairie Home Companion, gained popularity as a member of the Juno Award-winning folk trio The Wailin' Jennys. She has released two successful solo albums and performed on renowned stages with the likes of Sheryl Crow, Wynton Marsalis, and noted jazz pianists Jed Wilson and Dick Hyman.
Under the Streetlamp
Gentleman's Rule
Friday, May 30, 2014 at 8 p.m.
$25-$50
Under the Streetlamp, a retro-inspired quartet, and Gentleman's Rule, the creation of Straight No Chaser's original music director, Dan Ponce, will both make their Wolf Trap debuts on May 30.
Comprised of four leading men from cast of the Tony Award-winning musical Jersey Boys, Under the Streetlamp fuses the high energy of Broadway tunes with classic American hits from Motown and rock 'n' roll to doo-wop. Audiences can expect an evening packed with electrifying music from fan favorites such as Frankie Valli and The Four Seasons, Elvis Presley, The Ronettes, Jackie Wilson, and many more.
Video: Under the Streetlamp – Sizzle Reel
The eight-man group Gentleman's Rule revolutionizes traditional a cappella performances with unique harmonies, sharp choreography, and a hypnotic stage presence. Singing popular hits from the '70s and '80s to contemporary top 40, this group has something for everyone to enjoy. Gentlemen's Rule has garnered rave reviews from critics and audiences alike with a successful two-week run at Chicago's historic Royal George Theatre and as the opening act for Under the Streetlamp's national tour.
Video: Gentleman's Rule – "I'm Coming Home"
Tickets can be purchased by calling 1.877.WOLFTRAP or online at wolftrap.org.
For more information, call Wolf Trap at 703.255.1900.
High-resolution images of the artists listed are available on Wolf Trap's website: wolftrap.org/Media_and_Newsroom/Photos_for_Publication.aspx.
Wolf Trap is Metro accessible!
Our environmentally friendly Wolf Trap Express Bus travels from the West Falls Church Metro stop every 20 minutes, starting two hours prior to show time. For details, please visit wolftrap.org/Plan_Your_Visit/Access_by_Metro.aspx.