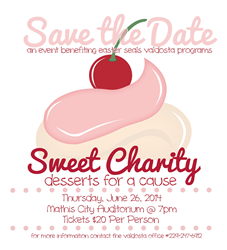 Sweet Charity is an exciting event for a worthwhile organization that does a great deal in our community for persons with developmental disabilities.
Valdosta, Georgia (PRWEB) May 29, 2014
This years Sweet Charity Event will be held Thursday, June 26 at 7:00 pm at Mathis City Auditorium in Valdosta. Previously called the Chocolate Classic, this event will offer not only a sampling of chocolate desserts, but all kinds of decadent cakes, pies, and other sweets offered by local restaurants. A selection of milk, coffee, and other beverages will be offered as well. There will be an opportunity for attendees to bid on donated items and local services at the silent auction.
Tickets are $20 each and can be purchased at the Easter Seals Southern Georgia office located at 610 North Patterson Street, Suite A in Valdosta or call 229-247-6912 for more information. Proceeds from the Sweet Charity event will benefit the local programs of Easter Seals, in particular Megan's House.
Megan's House is a respite home for children ages 0-17 who have developmental disabilities, autism, or are medically fragile. Direct care is provided by qualified, experienced Direct Support Professionals and individualized care plans are developed by the Registered Nurse on staff. Megan's House is a much needed service to local families of children with special needs. Megan's House provides families a well-deserved break with the peace of mind that their child is being cared for by a qualified professional. Megan's House services are provided in three locations: Valdosta, Albany and Waycross.
Easter Seals Southern Georgia creates solutions that change the lives of children, adults and families with disabilities or special needs by offering a variety of programs and services that enable individuals to lead lives of equality, dignity and independence. For more information, visit us online at http://www.southerngeorgia.easterseals.com.