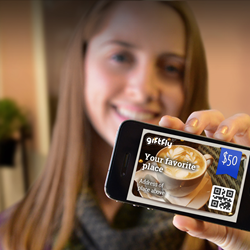 We wanted the whole gift card experience to be much more entertaining and just plain easier for today's busy gift shoppers.
Darien, CT (PRWEB) May 09, 2014
Gift cards are a $100 billion-dollar industry for good reason: they are the primary present of the last-minute shopper, the go-to gift for the birthday forgetter and best option for when you have no idea what to get your mom for Mother's Day. However, traditional plastic gift cards tend to get lost or forgotten and so we always leave cash left on them.
Enter GiftFly!
GiftFly.com is a new social and mobile online gift card service providing a long-awaited alternative to easily lost or forgotten plastic gift cards. The GiftFly website launches their desktop version in time for last minute Mother's Day shoppers and now allows anyone to send a personalized online gift card for any local, favorite business to anyone across the country at anytime. Their mobile-friendly version and merchant dashboard will be rolled out next week.
Using GiftFly is quick and easy. After finding mom's favorite local business using the built-in Yelp search tool, send the online gift card to your mother's Facebook account, email address, or via text message. It arrives in seconds.
Once the GiftFly gift card is received, the recipient can easily redeem it at a participating local shop using the GiftFly Code or as cash deposited directly into her PayPal or bank account instantly. Businesses can sign up to utilize their free eGift card solution to start selling their gift cards nationwide.
"We wanted the whole gift card experience to be much more entertaining and just plain easier for today's busy gift shoppers. Because we are a digital gift card service and use Yelp's search engine, you can recommend any of over a million favorite, local boutiques, restaurants or shops, add personalized messaging, beautiful card designs and access & deliver the card 24/7 to your mobile phone instantly. For the merchant, we've eliminated the costs of plastic cards collecting dust near the POS and added a card that virtually anyone in the country can buy in their pajamas at home while the merchant gets some well deserved sleep," says Cory Perkins, CEO and Founder of the company. "GiftFly does both in a simple and secure way."
Two types of cards will be available: the Cash card which is redeemed with one click directly into a PayPal or bank account and the Merchant card which is redeemed at the participating merchant just like a traditional plastic card at checkout.
Gone are the days of finding a gift card for a narrow selection of businesses, loading it with money, sending it using old-fashioned stamps and snail mail, then hoping a friend or family member doesn't forget yet another plastic card. GiftFly streamlines all those processes into a quick & easy service, which can be found at http://www.giftfly.com.
GiftFly gift cards are instantly sent and received, safe to send because of the company's built-in fraud protection and never lost or stolen because they are stored electronically. They also help cut down on plastic consumption by being environmentally friendly.
GiftFly is a great gift option for Mother's Day and encourages the support of local businesses. Starbucks and Best Buy might have their own gift cards, but if your mom loves Joe's Bakery down the street, GiftFly is your best bet. They also are considered the best last minute gift, because a GiftFly can be personalized and sent instantly to anyone, anywhere in seconds.