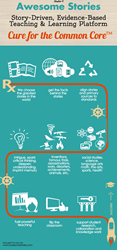 At Awesome Stories, educators and students discover new nonfiction worlds at a safe, accurate website.
Grand Rapids, MI (PRWEB) May 21, 2014
Awesome Stories, a Story-Driven, Evidence-Based Teaching and Learning Platform serving teachers, librarians, and students, now offers another groundbreaking change in education, with their new story-based digital teaching and learning platform.
Stories are among the most powerful teachers and grounding these stories in evidence enables each learner to do the kind of research, critical thinking, and collaboration needed to meet the objectives of the Common Core standards. Awesome Stories deeply respects teachers' and learners' time and interests, and leverages standards to guide achievement of learning objectives. Riding on technology, delivering stories and media to incite and deepen individual interests, primary sources are garnered as evidence for learners to experience, analyze, and critically think their way to the truth.
After years of No Child Left Behind skill and drill and test prep, Common Core standards emphasizing research, deeper learning, and critical thinking bring a new challenge to teachers. Many teachers are struggling to "change the tires while driving" and to fit Common Core into the curriculum, all while teaching their classes. Awesome Stories is a cure for the Common Core.
"As a trial attorney it's my job to explain the facts of a case, no matter how specific and technical, in a way that jurors of all backgrounds can understand and relate to. The story must be compelling and the facts must be straight. We bring the same standards and urgency to stories on our website," explained Carole Bos, founder.
For each of its nearly 800 stories, Awesome Stories provides the time and place context—videos, original documents, images or audios. Watching a movie or reading a book provides an enjoyable and educational experience, but Awesome Stories takes the story farther and deeper. For the "Red Tails" film, actual footage of the Tuskegee airmen, the transcript of the curriculum studied by the first black woman pilot in France (American Bessie Coleman), the physics of flight, plane engineering, politics of the day, importance in the war effort, and more, are provided. Each class, subject, or grade uses the narrative guides and the treasure trove of primary sources surrounding each story to match its own curriculum and to fuel their own exploration, lessons, projects, and research.
Deborah Bond-Upson, education innovator from Kaplan, Knowledge Universe, Teacher Universe and Galaxy Classroom, leads development and education for Awesome Stories with a team of teachers, library media specialists, principals, and writers from around the country. Bond-Upson joined two years ago because, "The range and power of the stories knocked me out. Forward-looking teachers using it were the tip of the iceberg. Using the newest media delivery, search, and alignment tools, this tremendous teaching and learning approach should be accessible to any teacher or learner."
"At Awesome Stories, educators and students discover new nonfiction worlds at a safe, accurate website. The stories lead students on a quest for answers. Teachers appreciate the lesson plans and activities. The site is aligned with Common Core State Standards. Simply put, Awesome Stories is an Internet gem," notes Patty Paugh, library media specialist.
For more information on Awesome Stories see our:
2:30 video "Awesome Stories: A Cure for the Common Core at http://youtu.be/Jc01cVV3yvY
5:58 video "Intro by founder Carole Bos" http://www.youtube.com/watch?v=8KSfKcaEC1s
Awesome Stories Info Graphic at http://www.awesomestories.com/images/user/464adb45a1.pdf
About Awesome Stories
Awesome Stories - a native-Internet, story-based, primary-sources website - was a breakthrough in 1999 and has attracted millions of annual visitors. Hundreds of thousands of followers have since realized the value and service Awesome Stories provides.
Now Awesome Stories is a Story-Driven, Evidence-Based Teaching and Learning Platform featuring Awesome Stories-Authored Story Learning Guides to nearly 800 stories contextualized with over 100,000 primary sources, advanced search options and classroom teaching and learning tools. 
Featuring a wide variety of topics - including biographies, movies, literature, and historic events- each story has links to original materials such as photos, illustrations, videos, news stories, music and first hand accounts within a cohesive, readable, easy-to-navigate format. Each story on the site links to online primary source materials, which are positioned in context, to enhance reading comprehension, understanding and enjoyment.
The website remains a valuable free Story-Driven learning resource to all teachers and learners, while offering new premium memberships, enhanced functionality, and building on its stories. Visit http://www.AwesomeStories.org to subscribe as a free member or for a 30-day free trial of premium individual or classroom membership.