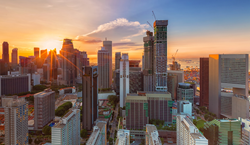 This expansion is key to Switchplace's ongoing growth in the international marketplace.
Dallas, Texas (PRWEB) May 19, 2014
Switchplace, a global temporary housing company specializing in supporting businesses and their employees during relocation, is excited to announce the expansion of our international presence with the opening of a full-service location in Singapore. The new office, located in the epicenter of Singapore's thriving business district, opened May 2014 to serve growing demand for Switchplace's quality temporary housing services in the Asia Pacific Region.
Building a reputation of reliability and service in Singapore for the last four years, Switchplace has earned the loyalty and trust of key clients. With the expansion of our Singapore division, our team will be ready to continue our service in the increasingly global business environment of the Asia Pacific Region. Positioned to deliver quality temporary housing solutions anywhere in the world, our team in Singapore is committed to exceptional client service at every stage of the transition process.
"Our Singapore office will allow us to fully serve our existing and future clients in multiple time zones, allowing us to provide our exceptional service across country lines," said Racheal Potter, CRP, Switchplace Vice President of Operations. "This expansion is key to Switchplace's ongoing growth in the international marketplace, and we are pleased to start in Singapore."
Switchplace Singapore will be led by Jacqueline Ang, GMS, Manager Global Solutions- Asia Pacific. Ang has over 23 years of extensive service in the hospitality industry, bringing experience, dedication and excitement to our international team. With this expansion, Switchplace will continue to offer customized solutions with unprecedented service and a personal touch that truly makes a difference during the process of relocation.
"With the increasing global requirements and demands for temporary housing, it is a significant move by Switchplace to make their presence felt in the fast-growing Asia Pacific region," said Ang. "Together with this energetic and service-focused team, I am fully committed to delivering excellent service and satisfying solutions for our valued clients and future prospects."
"I am very excited about the opening of our Singapore office," said Doris Kampf, Switchplace Vice President of Global Sales. "Businesses are flourishing in the APAC region, maybe more than anywhere else in the world. This is where we have to be for our clients. We want to service our global clients where their needs are, and our presence in the APAC region will be key in helping us meet those needs."
About Switchplace
Switchplace is a global temporary housing company that provides transitional accommodations and related services to support businesses and their employees during relocation, business travel, temporary assignments and a variety of project-related needs. Founded in 1998, the certified woman-owned business continues to customize and expand its offerings to meet the changing needs of corporations and relocation management companies. For more information about Switchplace, visit http://www.switchplace.com.