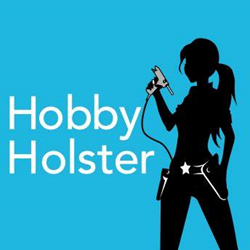 There's no product like this in the crafting industry.
Los Angeles (PRWEB) May 12, 2014
Holster Brands announces the launch of the Hobby Holster, available to consumers this month. The Hobby Holster will join the current collection of Holster Brand products including the Hot Iron Holster and Lil' Holster.
The Hobby Holster became available to consumers on May 9, 2014 online. The product made its debut in January 2014 at the Craft & Hobby Association Show in Anaheim, California. It will be available for purchase at big box craft stores later this year.
The Hobby Holster is heat-resistant up to 400 degrees Fahrenheit. Its dual pocket, silicone holder makes it ideal for conveniently holding and organizing crafting tools. The unique design of the Hobby Holster makes holding hot glue guns easy while they are in use, or cooling down. The dual pocket design allows crafters to keep their hot glue gun safe and separated from additional glue sticks; glitter pens separate from paint brushes; or quilting pens separate from fabric squares. The silicone used in the Hobby Holster allows the product to cling to any smooth surface without the use of suction cups or adhesive.
"There's no product like this in the crafting industry," said Erin Balogh, inventor and CEO of Holster Brands, "Hot glue guns are very common crafting items and I was aiming to make them less scary for parents. Now with the Hobby Holster, parents don't have to worry about heat damage or excess glue damaging the crafting surface."
The Hobby Holster retails for $19.99 and can be purchased in turquoise, green, pink, or grey online.
For more information about Holster Brands visit http://www.HolsterBrands.com.
About Holster Brands
Holster Brands is a consumer product innovation company focused on bringing products to market in the United States and internationally. Holster Brands has a product portfolio that includes the Hot Iron Holster, the Hobby Holster and the Lil'Holster. Each of these product lines utilizes silicone as a functional material to help consumers with organization, heat resistance and daily activities. For information about becoming a retailer, visit http://www.HolsterBrands.com.