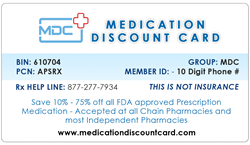 We are aware that millions of Americans are losing out on healthcare because prescription prices are too high. Our card offers you a discount of up to 75% on thousands of prescription drugs
Houston, TX (PRWEB) May 13, 2014
Gallup reported earlier this year that the number of uninsured Americans is in decline. While that's great news for many people, it doesn't mean that healthcare is suddenly affordable for everyone. Prescription non-compliance is still high, and the most common reason people report for not taking their meds regularly is cost. MedicationDiscountCard.com President Jeremy Duboys finds this unacceptable, saying, "We are aware that millions of Americans are losing out on healthcare because prescription prices are too high. Our card offers you a discount of up to 75% on thousands of prescription drugs." MedicationDiscountCard.com helps patients afford the life-saving medications they need. Including immunostimulants discount cards like a Leukine discount card, a Copaxone discount card, an Adagen discount card, a Mozobil discount card, and a Neupogen discount card.
The human immune system is a collective of biological and chemical processes that promote healing and fight disease. The immune system can be compromised by illness, poor nutrition, or by outside factors like chemotherapy. When this system isn't functioning properly, the patient can be at greater risk of illness or infection. Moreover, the immune system is what distinguishes healthy tissue from unhealthy. This means a malfunctioning immune system may attack healthy cells, causing any number of medical issues ranging from irksome to deadly serious. Drugs like Leukine stimulate better immune response and help the body do what it does naturally.
Cost should never impede a patient from receiving Leukine or any other life-saving medication they need. That's why MedicationDiscountCard.com has already helped thousands of patients afford the medications they need. Discounts of 10-75% can make an enormous difference to a struggling family. Discount cards may be printed free from the company's website for immediate discounts on prescription medications. There is no charge for the discount card. It's not a membership, there is no fee, and no credit card information is required. Cards may be used an unlimited number of times at any of thousands of participating pharmacies nationwide.