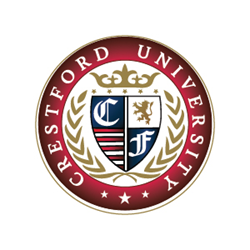 (PRWEB) May 10, 2014
Crestford University recently held its first ever online job fair, thereby paving the way for future endeavors of such nature to take place for the benefit of Crestford University students around the world. Through this online job fair, Crestford University aims to bridge the gap between employers looking for talented individuals for their companies and aspiring professionals looking to satisfy their professional ambitions. According to university records, around 10,000 employers and students were in attendance on what is proving to be this year's biggest online job fair so far.
Crestford University, a highly reputed and well-established name in the world of online education, has always claimed to be the provider of online education that adheres to standards of excellence. Its goal is to ensure young minds around the world are given the chance to satisfy not only their academic goals but their professional objectives as well. That is why, according to university representatives, Crestford has pushed the envelope with its first ever online job fair as a way of playing an integral role in students' missions to get the job of their dreams. "This online job fair, though being one of the riskiest ventures we have ever undertaken, has also proven to be one of the best decisions we have ever made," said Alice T. Thaxton, Communications Director at Crestford University. "We never estimated that we would receive such an amazing response from both employers as well as students. We understand that this project has managed to help both parties achieve their respective objectives by putting them together on one platform." Students were able to interact with employers in an environment that was encouraging and totally geared towards student success. Representatives of numerous companies were available to answer students' every query, thereby putting many of their fears related to job applications and job search to rest.
Crestford University has and will continue to strive towards ensuring aspiring professionals get the training and education they need to make an impact in the professional environment. Individuals coming from all walks of life can benefit from the innumerable benefits provided by the university, which ultimately will enable them to achieve all their academic and professionals goals. It has been creating unique online learning experiences through state-of-the-art technology, thus making education accessible and affordable for students across the world. By providing them access to leading organizations around the world, Crestford University is paving the way for students to chart their own paths to career success.
About Crestford University
Crestford University is one of the world's leading pioneers and catalyst of online education, offering unique learning experiences for students worldwide. Crestford University offers world class online education programs at degree, diploma and certificate levels. At Crestford, we offer innovative and self paced online education programs at degree, diploma and certificate levels in 16 schools and 71 diverse majors. Our expert faculty and global presence facilitate us to achieve our mission and strengthen our competencies in the field of online education.