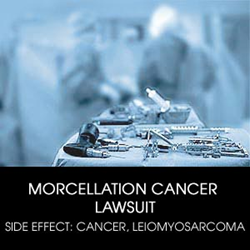 To Discuss Filing A Morcellation Lawsuit, Please Contact Alonso Krangle Llp At 1-800-403-6191 Or Visit Our Website, Http://Www.Fightforvictims.Com
New York, NY (PRWEB) May 10, 2014
Alonso Krangle LLP is currently offering free Morcellation Lawsuit legal evaluations to women who have been diagnosed with uterine sarcoma following a morcellation procedure. Our attorneys are available to discuss the filing of a possible morcellation lawsuit to seek compensation for the pain and suffering allegedly due to the surgery.
( Morcellation lawsuit filed in the U.S. District Court for the Western District of New York (Case No. 6:14-cv-06218))
Morcellation is a minimally invasive surgical procedure in which uterine tissue is sliced or divided into fragments that can be extracted through small incision sites in the abdomen. Morcellation is involved when a woman undergoes a hysterectomy or myomectomy to remove uterine fibroids. The FDA issued a warning on April 17, 2014, over the risk of the laparoscopic power morcellator, which is used during the surgery, spreading undetected cancerous tissue within a woman's abdomen and pelvis during the uterine fibroid removal. The federal agency stated in its safety communication that according to its analysis of currently available data, estimates show that one in 350 women undergoing a hysterectomy or myomectomy to remove uterine fibroids is found to have an undetected uterine cancer, including leiomyosarcoma, a rare but aggressive cancer of smooth muscle cells that can spread through blood stream and affect the liver, blood vessels, the lungs and any other soft tissue in the body.
[fda.gov/MedicalDevices/Safety/AlertsandNotices/ucm393576.htm, FDA April 17, 2014]
Swift Reaction to FDA Warning
Nearly a week after the FDA's warning, hospitals around the country, including Cleveland Clinic, University of Pennsylvania, Cleveland Clinic, Brigham and Women's Hospital and Massachusetts General Hospital, announced that they would no longer use laparoscopic power morcellators. In the wake of the hospitals' decision and the FDA discouraging health care providers from using morcellation, Johnson & Johnsonon announced April 29, 2014, that it would suspend global sales of its laparoscopic power morcellator. According to the Tech Times, Johnson & Johnson is the largest manufacturer of laparoscopic power morcellators. Tech Times reported that Johnson & Johnson does not plan to permanently remove the medical devices from the global market since the FDA recognized that morcellation may be the best treatment for some patients. The company, instead, will wait until the morcellator's role is better understood and redefined by the medical community, according to the Tech Times. The FDA plans to hold a public meeting of the Obstetrics and Gynecological Medical Device Advisory Committee meeting to discuss the clinical role of morcellation in treating fibroids, whether using morcellation/speciman bags can enhance the safety and effective use of morcellators and whether a boxed warning about the cancer risk should be required on morcellators.
[bizjournals.com/pittsburgh/blog/the-pulse/2014/04/hysterectomy-procedure-continues-at-upmc-with.html, BizJournal April 28, 2014]
[wsj.com/news/articles/SB10001424052702304893404579531961812995326, Wall Street Journal April 29, 2014]
Morcellation Lawsuit Filings
Court documents show that morcellation lawsuits have been filed involving laparoscopic power morcellators used in gynecological surgeries. Andy Alonso with the firm Alonso Krangle in New York, and Dr. Francois Blaudeau with Heninger Garrison Davis, LLC, filed a morcellation complaint against Ethicon, Inc., a subsidiary of Johnson & Johnson that manufactures power morcellators. The morcellator lawsuit was filed on behalf of Brenda Leuzzi who was diagnosed with cancer after undergoing a Robot-assisted hysterectomy with uterine morcellation. The complaint, filed in the U.S. District Court for the Western District of New York, alleges that the woman was diagnosed with uterine leiomyosarcoma in September 2012, the same month in which she had the hysterectomy. (Case No. 6:14-cv-06218). Mrs. Leuzzi is undergoing advanced chemotherapy and radiation therapy her long-term prognosis is poor.
Court records also indicate that another morcellation lawsuit in which Ethicon is named as a defendant is pending in the U.S. District Court, Eastern District of Pennsylvania. A Berks County, Pennsylvania man allege that his 53-year-old wife was diagnosed with metastatic leiomyosarcoma after undergoing a hysterectomy in March 2012, in which a laparoscopic power morcellator was used. The man stated in his lawsuit that his wife died in February 2013, less than a year after her surgery. The morcellator complaint also named Blue Endo and Lina Medical, both of which manufactures morcellators, as defendants.(Case No. 5:14-cv-1557)
( articles.philly.com/2014-03-19/news/48334892_1_uterine-cancer-hysterectomy-leiomyosarcoma Philly March 2014)
( nj.com/news/index.ssf/2014/02/questions_raised_about_rare_-_but_deadly_-_hysterectomy_risk.html NJ February 2014)
J&J Suspends Global Sales Of Power Morcellators
Reuters reports that Johnson & Johnson announced it was suspending the promotion, sales and distribution of laparoscopic power morcellators due to concerns that the medical device spreads uterine cancer in women. The company's move came nearly two weeks after the U.S. Food & Drug Administration (FDA) warned that power morcellators can potentially spread cancer during gynecological surgeries on women. Johnson & Johnson will not completely take laparoscopic power morcellators off the worldwide market since the FDA maintained that morcellation may be the best option for some patients who consent to having the medical device used in a procedure after they have been notified of the risk involved. However, the company will halt the sale of the medical devices until the power morcellators role in treating fibroid tumors is better understood and redefined by the medical community.
[ fda.gov/MedicalDevices/Safety/AlertsandNotices/ucm393576.htm FDA ]
[ reuters.com/article/2014/04/30/us-johnson-johnson-device-idUSKBN0DG06G20140430, Reuters April 30, 2014 ]
Filing A Free Morcellation Lawsuit Case Evaluation
If you or a woman you love developed leiomyosarcoma following morcellation, you may want to consider filing your own morcellation cancer lawsuit. To learn more about the legal options available to you, please contact Alonso Krangle LLP today by filling out our online form or calling 1-800-403-6191.
....................................................................................................................................
Related News
Morcellation Lawsuit News: Experts Argue Role of Power Morcellators in Fibroid Removal and Hysterectomies
Alonso Krangle LLP Files Morcellator Lawsuit Alleges Woman Was Diagnosed With Cancer After Morcellator Surgery
Morcellator Lawsuit Scrutinizes Procedure; FDA Calls For End to Morcellation Procedure
....................................................................................................................................
About Alonso Krangle LLP
Andres Alonso And David Krangle, Attorneys With Almost 40 Years Of Collective Legal Experience, Have Focused Their Law Practice On The Handling Of Significant Personal Injury Cases, Defective Drug And Medical Device Litigation, Construction Site Accidents,Nursing Home Abuse, Medical Negligence, Qui Tam/Whistleblower Actions And Consumer Fraud Cases. A Nationwide Law Firm Representing Injured Victims Throughout The U.S., Alonso Krangle Llp Is Headquartered In Long Island, New York, With Offices In New York City, And New Jersey. To Discuss Filing A Morcellation Lawsuit, Please Contact Alonso Krangle Llp At 1-800-403-6191 Or Visit Our Website, http://www.Fightforvictims.Com
For More Information About Alonso Krangle Llp Or To Join The Fight And Be A Part Of Our Team, Please Contact Us At 1-800-403-6191 Or Visit Our Website, http://www.fightforvictims.com
Contact:
Alonso Krangle LLP
445 Broad Hollow Road
Suite 205
Melville, New York 11747
Toll-FREE 1-800-403-6191
Tel: 516-350-5555
Fax: 516-350-5554
http://www.fightforvictims.com