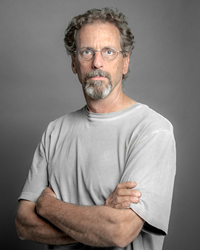 Tom's metal work is often about communities and the environments they inhabit—from the banks of the Rio Grande to the ashes of the World Trade Towers, and beyond into Africa.
Santa Fe, NM (PRWEB) May 09, 2014
Santa Fe University of Art and Design (SFUAD) announced today that internationally recognized artist, designer and blacksmith Tom Joyce will deliver the 2014 commencement address. Joyce will receive an honorary degree from the university during the ceremony, which will be held at 10 a.m. on May 17 at Greer Garson Theatre. In addition to Joyce's address, the graduation program will feature student speaker Tina Hartell ('14, Musical Theatre) as well as musical performances by a jazz trio and Performing Arts Department graduates. Eighty-five students will walk in the 2014 commencement ceremony, the first class to have completed four full years at SFUAD after the school's transition from its identity as the College of Santa Fe.
"We congratulate the graduates of the class of 2014 as they embark on their artistic careers, and we wish them all the success as future creative leaders," said Larry Hinz, president of Santa Fe University of Art and Design. "It is our hope that our alumni stay connected with SFUAD as they grow, and keep us updated on all they go on to achieve."
Joyce, as the faculty-nominated commencement speaker, is a fixture in the Santa Fe community whose local studio first opened in 1977. Joyce has exhibited his work all over the world and was named a MacArthur Fellow in 2003 for his achievements in sculpture, architectural ironwork and public art.
"Tom Joyce is one of Santa Fe's most accomplished artists," said Mary Anne Redding, chair of the SFUAD Photography Department. "Tom's metal work is often about communities and the environments they inhabit—from the banks of the Rio Grande to the ashes of the World Trade Towers, and beyond into Africa. For years he has mentored young artists through a blacksmithing program, giving students a chance to expand their studies in his self-built studio, workshop and forge, working with them in a hands-on environment in much the same way as he did years ago."
Joyce's work is in the permanent collections of more than 25 public institutions. It has been shown in 146 solo and group exhibitions in venues including the Museum of Arts and Design in New York; the Renwick Gallery of the Smithsonian American Art Museum; the National Building Museum in Washington, D.C.; the Museum of Applied Arts in Moscow; and the Musée des Arts Décoratifs in Paris. His lectures have also spanned the globe, with invitations to speak in South Africa and throughout Europe and North America.
Joyce's awards and honors include receiving a MacArthur Fellowship, a United States Artists Windgate Fellowship, and the New Mexico Governor's Award for Excellence in the Arts. He is also included in the Smithsonian Institution's Oral History Program as part of the Archives of American Art. In 1989, Joyce was the first non-British recipient to receive the Highest Honorary Fellowship of the Worshipful Company of Blacksmiths in London since the charter began in 1571.
At a May 19 dedication for the National September 11 Memorial & Museum, Joyce will attend the unveiling of his 100-foot-long commission forged from World Trade Center steel, a quote from Virgil that reads, "No Day Shall Erase You from the Memory of Time." Two days later, also in New York City, he will install seven sculptures permanently on Broadway and Columbus Circle at the Museum of Arts and Design. He is currently designing sculpture commissions for the Santa Fe Botanical Garden and the Mint Museum of Art in Charlotte, North Carolina. Joyce continues to conduct extensive field research on African ironwork, sculpture and blacksmithing traditions, most recently in Ghana, Togo, Benin, Mali and Burkina Faso. He also serves as chief curator of a traveling exhibition, Striking Iron: The Art of African Blacksmiths, working in collaboration with scholars Henry Drewal, Allen Roberts and William Dewey. This exhibition, which will open at UCLA's Fowler Museum in 2016, features 250 pieces of the finest artistry from African blacksmiths dating from earliest times to the present.
About Santa Fe University of Art and Design:
Santa Fe University of Art and Design is an accredited institution located in Santa Fe, New Mexico, one of the world's leading centers for art and design. The university offers degrees in arts management, contemporary music, creative writing, digital arts, graphic design, film, performing arts, photography and studio art. Faculty members are practicing artists who teach students in small groups, following a unique interdisciplinary curriculum that combines hands-on experience with core theory and prepares graduates to become well-rounded, creative, problem-solving professionals. As a Laureate International Universities Center of Excellence in Art, Architecture and Design, the university boasts an international student body and opportunities to study abroad, encouraging students to develop a global perspective on the arts. Santa Fe University of Art and Design is accredited by The Higher Learning Commission and a member of the North Central Association, http://www.ncahlc.org.