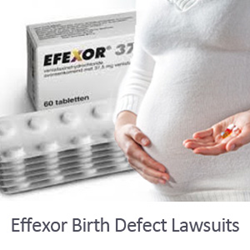 Wright & Schulte LLC offers free legal evaluations to those who believe their child suffered a heart malformation or some other birth defect from SSRIs such as Effexor, Zoloft and Paxil. Visit www.yourlegalhelp.com or call 1-800-399-0795
Columbus, OH (PRWEB) May 12, 2014
An Effexor lawsuit was filed by Wright & Schulte LLC on behalf of an Ohio woman whose child was born with birth defects allegedly because she took the SSRI antidepressant drug Effexor while she was pregnan t. This Effexor lawsuit was filed in the U.S. District Court, Northern District of Ohio against Pfizer Inc., J.B. Roerig & Company, a subsidiary of Pfizer Inc., and Wyeth Pharmaceuticals Inc., another Pfizer, Inc. subsidiary. (Case No. 1:14-cv-204). The mother alleges in her Effexor complaint that her baby was born with a complex congenital heart defect known as tetralogy of Fallot, a hole in the heart, also called patent foramen ovale, and other congenital heart conditions which caused her son to undergo multiple surgeries and other medical procedures.
The SSRI antidepressant lawsuit contends that the defendants knew or should have known that Effexor crosses the placenta and poses significant risks to a developing fetus, resulting in babies being born with congenital birth defects. The mother further contends in her Effexor complaint that had she known the actual facts about the antidepressant drug, she would not have taken the medication while she was pregnant.
Our firm continues to speak with mothers and fathers whose babies are sadly born with birth defects purportedly due to Effexor and other anti-depressant drugs. Our Effexor attorneys will defend your rights and fight for the compensation you deserve. For a free Effexor lawsuit evaluation, call Wright & Schulte LLC at 1-800-399-0795 or visit http://www.yourlegalhelp.com
Effexor, also known as venlafaxine hydrochloride, falls into the selective serotonin/norepinephrine reuptake inhibitor classification of drugs that has been approved by the U.S. Food & Drug Administration (FDA) to treat depression, anxiety, and other mood disorders. According to the FDA, Effexor and other prescription antidepressant drugs may have serious side effects, such as anxiety, insomnia, an increase in blood pressure, manic or hypomanic episodes, low salt levels in the blood, and an increase of suicidal thoughts or actions in some children, teenagers or young adults within the first few months of treatment or when the dose is changed. Antidepressant medication also poses a serious risk of causing birth defects in women who take the prescription medication during pregnancy, the FDA stated in a December 2013 Consumer Update. Other SSRI anti-depressant drugs include; Aoloft, Lecapro, Paxil, Celexa, and Prozac. [fda.gov/downloads/Drugs/DrugSafety/ucm088586.pdf]
[fda.gov/drugs/drugsafety/ucm283375.htm, December 2011]
[fda.gov/ForConsumers/ConsumerUpdates/ucm095980.htm, December 7, 2013]
Court records indicate the U.S. Judicial Panel on Multidistrict Litigation (JPML) ordered all pending Effexor lawsuits filed against Pfizer Inc., and Wyeth Pharmaceuticals Inc., to be transferred to the U.S. District Court, Eastern District of Pennsylvania for coordinated pretrial hearings. In its August 2013 order to consolidate the cases, the JPML maintained that the pending Effexor complaints share factual questions stemming from allegations that taking the prescription medication during pregnancy cause children to be born with birth defects. (In Re: Effexor (Venlafaxine Hydrochloride) Products Liability Litigation–MDL No. 2458)
According to the JPML's Litigation Statistics report, there are 54 Effexor cases pending in the federal court in Pennsylvania, as of April 15, 2014. The judicial panel stated in its transfer order that U.S. District Judge Cynthia M. Rufe will oversee the Effexor cases since she is already managing multidistrict litigation with similar claims against Pfizer Inc., and Wyeth Pharmaceuticals Inc., over Zoloft, an antidepressant drug that plaintiffs allege causes birth defects in children when taken during pregnancy. (In Re: Zoloft (Sertraline Hydrochloride) Products Liability Litigation–MDL No. 2342).
Wright & Schulte LLC is representing alleged victims of anti-present medications such as Effexor or venlafaxine hydrochloride in birth defect claims that have been filed in the Southern District of West Virginia, and continues to offer free legal consult. Learn more by visiting yourlegalhelp.com or by calling 1-800-399-0795.
About Wright & Schulte LLLC
Wright & Schulte LLC, an experienced personal injury firm, is dedicated to the belief that America's legal system should work for the people. Every day, the attorneys of Wright & Schulte LLC stand up for the rights of people who have been injured or wronged and fight tirelessly to ensure that even the world's most powerful corporations take responsibility for their actions. If you're looking for a law firm that will guarantee the aggressive and personal representation you deserve, please do not hesitate to contact Wright & Schulte LLC today. Free case evaluations are available through yourlegalhelp.com or by calling 1-800-399-0795.
Contact:
Wright & Schulte LLC
812 East National Road
Vandalia, Ohio 45377
1-800-399-0795
Like us on Facebook
Follow us on Twitter
Join us on Google+