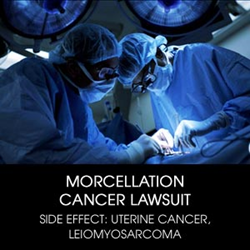 To Discuss Filing A Morcellator Lawsuit, Please Contact Alonso Krangle Llp At 1-800-403-6191 Or Visit Our Website, Http://Www.Fightforvictims.Com
New York, NY (PRWEB) May 11, 2014
With new morcellation lawsuits being filed, there is a growing debate among doctors and patients involving a hysterectomy procedure utilizing power morcellators, a device commonly used in hysterectomies. As reported by CBS News, power morcellation surgeries can potentially spread undetected uterine cancer, specifically uterine leiomyosarcoma, throughout the body. Due to this risk, the devices have drawn an advisory from the FDA, prompted manufacturer Johnson & Johnson to halt sales, and have become the focus of morcellation lawsuits.
( newyork.cbslocal.com/2014/05/01/dr-max-gomez-pelvic-cancer-and-the-riskreward-of-the-morcellator/ May 2014 )
( fda.gov/newsEvents/Newsroom/PressAnnouncements/ucm393689.htm April 2014 )
( Morcellation lawsuit filed in the U.S. District Court for the Western District of New York (Case No. 6:14-cv-06218))
Through CBS News, Dr. Enrique Hernandez of Temple University Hospital Stated; "If you cut the tumor in pieces inside of the abdomen, there is the potential of spreading of the cancer throughout the abdomen, so that makes the stage of the cancer more advanced."
( newyork.cbslocal.com/2014/05/01/dr-max-gomez-pelvic-cancer-and-the-riskreward-of-the-morcellator/ May 2014 )
Brenda Leuzzi, who has filed a power morcellator lawsuit, has first-hand knowledge of the risks involved with power morcellation. She suffered several hemorrhages because of uterine fibroids when she decided to have surgery. Her husband George said "They took a tumor that was at a low stage and morcellated it, and now she's at a high stage," said husband George Leuzzi. "Nobody wants to hear, you've got 12 months left to live, or less," Brenda told CBS News.
( newyork.cbslocal.com/2014/05/01/dr-max-gomez-pelvic-cancer-and-the-riskreward-of-the-morcellator/ May 2014 )
( Morcellation lawsuit filed in the U.S. District Court for the Western District of New York (Case No. 6:14-cv-06218))
Brenda Leuzzi is being represented by Andres Alonso of Alonso Krangle LLP along with co-council François M. Blaudeau of Heninger Garrison Davis LLC, who have recently filed a power morcellator lawsuit on behalf of Brenda in U.S. District Court for the Western District of New York (Case No. 6:14-cv-06218). According to the lawsuit, Brenda was not diagnosed with cancer prior to her hysterectomy but was diagnosed with uterine leiomyosarcoma shortly after surgery. The lawsuit alleges that Johnson & Johnson and subsidiary Ethicon knew about the risks and adverse events of using its Morcelex morcellator but failed to warn patients and their physicians of the hazards and dangers of using the device for uterine morcellation.
In April, the FDA issued a safety communication discouraging the use of morcellation in laparoscopic hysterectomies and myomectomies. William Maisel, M.D., M.P.H.,the FDA's Deputy Director for Science and Chief Scientist at the Center for Devices and Radiological Health said "There is no reliable way to determine if a uterine fibroid is cancerous prior to removal." He continued by saying that patients and their physicians should discuss all fibroid treatment options available and the benefits and risks of each.
With the FDA issuing a warning and lawsuits being filed, according to CBS news, some physicians feel power morcellator surgeries continue to have a role in the treatment of fibroids, as many women benefit from laparoscopic surgery over an abdominal incision. CBS reports that most experts agree that physicians must determine the best approach to fibroid treatment for each individual patient. Dr. Steve R. Goldstein, of NYU Langone Medical Center said "Clearly not every case should be morcellated, however to not morcellate anybody would be a tragic error because many women will benefit from minimally invasive surgery," Dr. Kathy Huang, the chief of robotic surgery at NYU-Langone, said that minimally invasive surgery reduces many of the complications of open surgery for fibroids.
A power morcellator is a device used to remove uterine fibroid tumors. The morcellator shreds uterine tissue so that it can be removed through laparoscopic incisions. However, morcellation can also spread undetected uterine cancer through the abdomen. Dr. Enrique Hernandez of Temple University Hospital told CBS New York that, "If you cut the tumor in pieces inside of the abdomen, there is the potential of spread of the cancer throughout the abdomen, so that makes the stage of cancer more advanced."
( newyork.cbslocal.com/2014/05/01/dr-max-gomez-pelvic-cancer-and-the-riskreward-of-the-morcellator/ May 2014 )
According to the U.S. Food and Drug Administration (FDA), 1 out of every 350 women who undergo laparoscopic power morcellation for fibroid tumors have an undetected uterine cancer that may be spread throughout the pelvis and abdomen, "significantly worsening the patient's likelihood of long-term survival."
( fda.gov/newsEvents/Newsroom/PressAnnouncements/ucm393689.htm April 2014 )
In April, J&J announced they were halting sales and distribution of morcellators from the global market. Reuters reports that J&J said they were not removing the product from the market, just halting sales until the role of morcellators in fibroid treatment is understood and redefined. In a letter to customers, J&J wrote "Ethicon morcellation devices have always included cautions in their instructions for use about the potential spread of malignant tissue."
( reuters.com/article/2014/04/30/us-johnson-johnson-device-idUSKBN0DG06G20140430 April 2014 )
Filing A Free Morcellator Lawsuit Case Evaluation
If you or a woman you love developed leiomyosarcoma following morcellation, you may want to consider filing your own morcellation cancer lawsuit. To learn more about the legal options available to you, please contact Alonso Krangle LLP today by filling out our online form or calling 1-800-403-6191.
....................................................................................................................................
Related News
Morcellator Lawsuit News: Experts Argue Role of Power Morcellators in Fibroid Removal and Hysterectomies
Morcellation Lawsuit Filed by Alonso Krangle LLP Alleges Woman Was Diagnosed With Cancer After Morcellator Surgery
Morcellation Lawsuit Scrutinizes Procedure; FDA Calls For End to Morcellation Procedure
....................................................................................................................................
About Alonso Krangle LLP
Andres Alonso And David Krangle, Attorneys With Almost 40 Years Of Collective Legal Experience, Have Focused Their Law Practice On The Handling Of Significant Personal Injury Cases, Defective Drug And Medical Device Litigation, Construction Site Accidents,Nursing Home Abuse, Medical Negligence, Qui Tam/Whistleblower Actions And Consumer Fraud Cases. A Nationwide Law Firm Representing Injured Victims Throughout The U.S., Alonso Krangle Llp Is Headquartered In Long Island, New York, With Offices In New York City, And New Jersey. To Discuss Filing A Morcellator Lawsuit, Please Contact Alonso Krangle Llp At 1-800-403-6191 Or Visit Our Website, http://www.Fightforvictims.Com
For More Information About Alonso Krangle Llp Or To Join The Fight And Be A Part Of Our Team, Please Contact Us At 1-800-403-6191 Or Visit Our Website, http://www.fightforvictims.com
Contact:
Alonso Krangle LLP
445 Broad Hollow Road
Suite 205
Melville, New York 11747
Toll-FREE 1-800-403-6191
Tel: 516-350-5555
Fax: 516-350-5554
http://www.fightforvictims.com