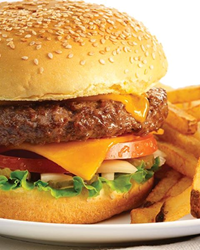 Houston, Texas (PRWEB) May 11, 2014
Becks Prime is celebrating National Burger Month this May by offering three grill master-inspired hamburgers at all Houston locations for a limited-time.
These three burgers represent Becks Prime's most requested "off-the-menu" burgers and customer favorites over the years.
"We decided to go back over the last 29 years and ask our grill masters which "off-the-menu" requests were most popular. These are not gimmicky burgers- these are customer favorites from 1985 to today," said Mike Knapp, Co-Founder and COO.
This month-long promotion starts Monday, May 12 and runs through June 1 at all Houston Becks Prime locations.
These specialty burgers include:
The 'Shroom Burger
A frequently requested burger with sautéed mushrooms, grilled onions, Swiss cheese, mayonnaise, lettuce, and tomatoes.
The Greek Burger
The Greek Burger is a team-inspired hamburger with cucumbers, lettuce, tomatoes, red bell peppers, red onions, feta cheese, and balsamic vinaigrette.
El Guapo
Last, but certainly not least, is "El Guapo" - a Texas favorite with guacamole, bacon, picante, lettuce, tomato, and cheddar cheese.
Each burger includes a choice of one side item. Choices include hand-cut Idaho fries, fresh-cut fruit, broccoli coleslaw or southwestern black beans.
In addition to this one-of-a-kind burger series, customers will be able to vote for their favorite specialty burger. Voting will take place on the Becks Prime Facebook page during the last week of the promotion.
Becks Prime burgers are made from 100% Certified Angus Beef Chuck and ground in-house every morning, every day. The burgers are always cooked to order, grilled over mesquite wood coals and are never frozen.
About Becks Prime
Founded by Texas restaurateurs Mike Knapp, John Storms and Win Campbell in 1985, Becks Prime is famous for its fresh, made-to-order food and award-winning burgers. Recognized as a "best burger" by USA Today, Texas Monthly (Top Ten Burgers in Texas), Houston Chronicle, Houston Business Journal, Zagat, and Houston Press, Becks Prime is committed to superior quality food. Privately owned Becks Prime currently operates fifteen locations in Houston and Dallas.
For more information, please visit http://www.becksprime.com. Follow Becks Prime on Facebook and Twitter.