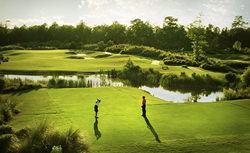 Top North Carolina Golf Course
Wilmington, NC (PRWEB) May 10, 2014
Hats off to one of the best Wilmington NC golf courses this year! Cape Fear National at Brunswick Forest is the cream of the crop when it comes to golf courses in the South, and everyone is finding out why. From its sweet location to the comprehensive Brunswick Forest amenities, Wilmington's fastest growing community is a best place to live in North Carolina and the adventure begins on the award winning golf course.
Just last month, Golfweek Magazine announced its list of Top Golf Courses State by State. It is no surprise that Cape Fear National at Brunswick Forest was representing North Carolina in eleventh place – a coveted position for golf courses in the state. Cape Fear National was recognized as having a modern layout for golfers shying away from the traditional and classic course designs. Set amid magnificent oaks, maples, pines, magnolias, and dune grasses, the golf course is intriguing. Water features and sand dunes add to the beauty of the course. Hole #3 is the Signature Hole, one of the most difficult holes of the course. Local's know to the secret to success on this hole and that is to aim for the leaning tree.
While all other Wilmington NC golf courses are just fine and dandy, Cape Fear National at Brunswick Forest is quite the winner. This 18-hole championship golf course designed by Tim Cate comes with all the bells and whistles of an upscale, premium masterpiece. Cate designed Cape Fear National with his heart and soul, and included dramatic features. Here are a few of the technical features of the course:
Three picture perfect waterfalls
1,500 feet of linear golf cart bridges
Strategically placed native rock walls
1.5 million cubic yards of earth was added and moved to create this quality layout
A natural terrain consisting of native grasses, Wax Myrtles and wildflowers
Superior drainage system and strategically placed sand traps
While, these quick facts are appealing, the entire Brunswick Forest community is impressing relocating Baby Boomers when they explore the best places to live in North Carolina. The heart of downtown Wilmington is only a 10 minute drive from the entrance of Brunswick Forest. The master-planned community is considered a 'prime coastal South location' in the media as it is equal distance between the city lights of NYC and the palm trees of Florida. The location is no doubt a perk of the community, but the Brunswick Forest amenities are just as appealing for people who want it all.
This 4,500 acre coastal community is welcoming for anyone who loves natural terrain, the coastal lifestyle and luxury living. Complete with 100 miles of walking and biking trails, an 18,000 square foot state-of-the-art fitness center, pickleball and tennis courts, property owners can kick back and can relish in the active lifestyle they've longed for. Along with one of the best Wilmington NC golf courses, this coastal community has even more to offer including:
Multiple swimming pools
The River Club canoe and kayak launch facility
The Villages 500,000 square foot shopping, dining and medical services within walking distance of the neighborhood
The Community Commons event lawn and social activity pavilion
Along with these amenities, Brunswick Forest is a community that consists of seven neighborhoods. Several overlooking the Cape Fear National golf course. Residents can view a hole-in-one right from their home.
Take a peek at Brunswick Forest homes
This coastal community shares in the joys of their neighbors and celebrates on a regular basis with the exciting social events. Some of the upcoming social events include:
June 14, 2014 – The 4th Annual Cardboard Boat Regatta – Residents and visitors can enjoy friendly races in their community, while they boogy to the local music and watch paddleboard demonstrations in the sun from 11 a.m. - 2 p.m.
June 14, 2014 – Summer Concert in the Park - After residents finish up soaking up the sunshine, they can enjoy the party band, Shine in the evening from 6-9 p.m.
July 19, 2014 – Summer Concert in the Park - The band, Fury, is heating up the crowd from 6-9 p.m.
August 9, 2014 – Summer Concert in the Park - Watch out for the Big Band! News Brunswick will have a 17-piece orchestra bringing in the "big" tunes during the dog days of summer.
This friendly coastal community welcomes non-residents and visiting guests to share in these activities.
Click to learn more about Brunswick Forest's Discovery Weekend Package or call 888.371.2434.
About Real Estate Scorecard:
Real Estate Scorecard writes unbiased real estate reviews providing in-depth information about popular gated communities in Florida, Georgia, North Carolina, South Carolina and Tennessee, all in an effort to help people discover where to retire in the Southeast.
Website: http://realestatescorecard.com