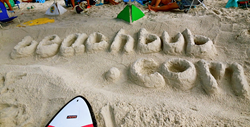 We've seen internet sales up 420% over the last month... - Bill Schermerhorn
Colfax, NC (PRWEB) May 22, 2014
beachBUB USA announces three areas of expansion in its marketing agenda, with The Naples Daily News in Florida, Orca Communications PR, Phoenix, Arizona and Lakewood Campgrounds in Myrtle Beach, SC. This past week beachBUB USA was interviewed by Naples Daily News when visiting its flagship market in Naples, FL where beachBUB®, beach umbrella base, was launched this past Spring. As stated in this interview President Bill Schermerhorn says, "We've seen internet sales up 420% over the last month which can be attributed to the increased media attention as well as the onset of the 2014 beach season."
In addition to this hometown publicity, beachBUB USA teamed up with Orca Communications PR, based in Phoenix, Arizona, in order to capitalize on the nationwide market as part of a recent summer beach campaign. So far, within the first two weeks of working with Orca publicist Eva Bowen, beachBUB® has landed some scheduled features in local news segments. beachBUB made its debut appearance with Valery Lodato of Orca in Phoenix, Arizona. Soon to be followed by segments in Washington, DC, Kansas City, Myrtle Beach and San Antonio. Bowen commented on this recent bump in media attention, "I am very pleased," and noted her surprise, "at the number of inquiries from across the country."
On another level, beachBUB USA is currently negotiating with Lakewood Campgrounds, a premier campground located in Myrtle Beach, SC that may open up a retail avenue for visitors to purchase the beachBUB® locally when near the area. beachBUB USA is also in contact with the Myrtle Beach Chamber of Commerce. The focus in this area is to attend chamber meetings and address the matters of beach safety and in particular, the beach tent ban that has gone into effect in Myrtle Beach this year.
The two focus points since the start up in January have been consumer awareness and customer satisfaction. Increased sales from new customers across the country are the first signal that the marketing efforts are gaining strength. Those sales can be attributed in part to special occasions like Mother's Day. It's expected that there will be a similar bump in sales with Father's Day coming up as well as other holidays throughout summer. Repeat customers are contributing to sales numbers, but more importantly verifying that beachBUB® is the best solution available on the market for securing your beach umbrella. Many customers have expressed their excitement for beachBUB® and its low price point and are coming back to buy additional beachBUB®s for family, friends and the emergency gift closet. It is projected that sales will only continue to grow as this summer campaign is the first for beachBUB USA and it is still in its early stages.
About beachBUB USA:
beachBUB™ USA is a family owned and operated company based in Colfax, NC and envisioned in Naples, FL.
Marketing/Sales Contact:
Lucy Schermerhorn
http://www.beachbub.com
336-580-0189