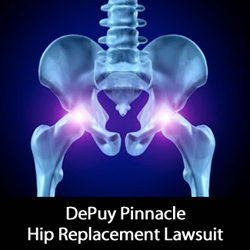 If you or someone you love were injured by a failing DePuy Pinnacle metal-on-metal hip replacement device, contact Wright & Schulte LLC for a free legal consultation at www.yourlegalhelp.com, or call 1-800-399-0795
Columbus, OH (PRWEB) May 11, 2014
A DePuy Pinnacle Lawsuit has been filed by Wright & Schulte LLC against DePuy Orthopaedics, Inc., a subsidiary of Johnson & Johnson, on behalf of an Ohio man who alleges that he suffered serious health complications including metallosis, kidney failure from infection, and numerous revision surgeries after receiving a metal-on-metal DePuy Pinnacle Hip Replacement in March 2010. (3:14-cv-406) The DePuy Pinnacle Lawsuit was filed in the U.S. District Court, Northern District of Texas as part of multidistrict litigation pending in the same federal court regarding the DePuy Pinnacle Hip Replacement System. According court documents there are 5,704 DePuy Pinnacle Hip Replacement lawsuits pending in the Texas federal court, as of April 15, 2014. (In Re: DePuy Orthopaedics, Inc., Pinnacle Hip Implant Products Liability Litigation– MDL No. 2244)
The firm continues to speak with individuals who have had complications due to the DePuy Hip Replacement system and encourages people who believe they have sustained DePuy Pinnacle complications to speak with our knowledgeable attorneys for a free legal evaluation by calling 1-800-395-0795 or by visiting ww.yourlegalhelp.com.
According to the DePuy Pinnacle Lawsuit the man experienced pain and tenderness in his right hip and groin. Which resulted in blood tests that showed high levels of cobalt and chromium (or metallosis) in his blood allegedly due to the defective metal-on-metal Pinnacle Hip replacement device. The DePuy hip replacement complaint further states the man underwent multiple revision surgeries beginning in March 2012 to replace the hip device in his right leg. The DePuy Pinnacle lawsuit also contends that revision surgeries are painful, risky and complex than the original hip replacement surgery, often because there is a reduced amount of bone in which to place the new hip implants.
The DePuy hip complaint further stated that an infection developed in the man's right hip in July 2012 and due to this infection, his hip prosthesis was removed and an antibiotic spacer placed in his right hip, resulting in him having to live without a hip for months while his infection was treated. The complaint also purports that he suffered other complications due to his defective Pinnacle hip implant, including a heart attack and kidney failure.
According to the Pinnacle complaint, the kidney failure was caused by the antibiotics the man was given to treat his infection. As a result of his kidney failure, the man stated that he was placed on dialysis and hospitalized from September 2012 until November 2012. The DePuy hip replacement lawsuit further contends that the defendants failed to sufficiently test the Pinnacle Hip System and did not adequately warn health care providers and consumers about the significant risks of serious bodily harm and death the device poses. (3:14-cv-406)
In January 2013, the U.S. Food & Drug Administration issued a proposed order requiring manufacturers of all-metal hip replacement systems to submit clinical studies proving that the hip replacement devices are safe and effective if the companies wanted to continue marketing and selling the device in the United States. According to the FDA, metal-on-metal hip replacement systems were marketed before 1976, the year when federal law allowed the FDA to have premarket authority over medical devices. Because companies did not have to submit clinical studies before selling their medical devices prior to the 1976 legislation, the devices were designated as "higher risk" devices but regulated according to similar medical devices already sold in the United States.
[federalregister.gov/articles/2013/01/18/2013-01006/effective-date-of-requirement-for-premarket-approval-for-two-
class-iii-preamendments-devices, January 18, 2013]
[fda.gov/medicaldevices/productsandmedicalprocedures/implantsandprosthetics/metalonmetalhipimplants
/ucm241769.htm, January 17, 2013]
The New York Times reported that DePuy Orthopaedics recalled a metal-on-metal hip replacement model called the Articular Surface Replacement in 2010, due to complaints that the device failed only a few years after implant. The company continued to sell the all-metal Pinnacle hip replacement. However, DePuy announced in May 2013 it was phasing out the Pinnacle system because of lack of demand for all-metal devices and the FDA's requirement to submit clinical studies on all-metal hip replacement systems.
[mobile.nytimes.com/2013/05/17/business/jj-is-phasing-out-metal-replacement-hips.html May 16, 2013]
About Wright & Schulte LLLC
Wright & Schulte LLC, an experienced personal injury firm, is dedicated to the belief that America's legal system should work for the people. Every day, the attorneys of Wright & Schulte LLC stand up for the rights of people who have been injured or wronged and fight tirelessly to ensure that even the world's most powerful corporations take responsibility for their actions. If you're looking for a law firm that will guarantee the aggressive and personal representation you deserve, please do not hesitate to contact Wright & Schulte LLC today. Free case evaluations are available through yourlegalhelp.com or by calling 1-800-399-0795.