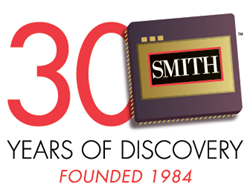 We will always push to innovate to support this industry to the utmost. We look forward to seeing what we can achieve in the next thirty years.
HOUSTON, TX (PRWEB) May 12, 2014
Smith & Associates, the largest independent distributor of electronic components, today announces a week of events to celebrate its thirtieth anniversary. After three decades in business, the company has built a global footprint and a foundation of quality and flexible service that has distinguished it over the years and will continue to characterize the company in the years ahead.
In observation of this milestone, Smith will be hosting team members from its global offices at the company's Houston headquarters for a week of collaborative work, team-building, and enrichment through workshops, focus groups, and group events outside of the office.
Smith's celebrations are rooted in its long history, which has been built on successes and experiences over the decades. The company was founded in Houston in 1984, with its four founders - not long out of college - selling components from their living room. The company grew and weathered the convoluted, feverishly-growing electronics supply chain of the 1980s, and focused on international expansion in the 1990s and beyond. Additionally, the company developed the quality programs and innovative service programs that distinguish it today, which have only grown and evolved since their establishment to meet the complex needs of modern global manufacturers.
Today, the company has a global reach built on the strength of its numerous offices in North America, Europe, and Asia, nearly four-hundred employees worldwide, annual revenues in excess of $500 million, and world-class quality and anti-counterfeit testing facilities and programs that are certified to AS9120, CCAP-101, and ISO/IEC 17025. In addition, Smith has led its industry in sustainability efforts and in its customized service offerings to meet customers' needs in the evolving supply chain.
"This company has changed immeasurably in the last three decades," said Bob Ackerley, co-founder/owner of Smith & Associates. "From our earliest days in this market, we have always put our customers' needs first, paying attention to those needs and shaping our company and services accordingly to meet them and anticipate new demands in the constantly-evolving supply chain."
"Now - after three decades - we have no intention of stopping," continued Ackerley. "We will always push to innovate to support this industry to the utmost. We look forward to seeing what we can achieve in the next thirty years."
About Smith & Associates
Founded in Houston in 1984, Smith & Associates is a leader in the independent distribution of semiconductors and electronic components to electronics and high-tech manufacturers. Smith offers shortage sourcing for commodity and obsolete parts, innovative purchasing and inventory management solutions, redistribution of excess inventory, and component stocking for warranty and repair programs.
A privately-held company, Smith & Associates employs more than 300 people worldwide, with annual revenue in excess of US $586 million. Smith's regional hubs in Houston, Hong Kong, and Amsterdam are ISO certified. In addition, sales and purchasing offices are located in Austin, Silicon Valley, Guadalajara, New York, Shanghai, Shenzhen, Seoul, Singapore, Taipei, and Penang. For more information, see http://www.smithweb.com/ or, to reach a Smith representative 24 hours a day, please call: 1.800.HOUSTON or +1 713.430.3000.
###
For more information, contact:
Mark Bollinger
Smith & Associates, V.P. of Marketing
+1 713.430.3000
mbollinger@nfsmith.com