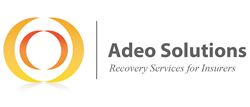 Wakefield, MA (PRWEB) May 12, 2014
The Advocator Group, LLC announces the rebranding of its insurer recovery services division as "Adeo Solutions." The division celebrates its 15th anniversary in 2014 with strategic changes that position it for future growth.
Previously known as Alternative Risk Concepts (ARC), Adeo Solutions provides risk management services to workers' compensation insurance carriers through identifying and maximizing opportunities for offset and reimbursement from state "second injury funds." In over a decade of business, the division has developed a reputation for operational integrity, creative solutions, and commitment of its skilled, professional staff.
The division debuts a new logo as part of the rebranding. The redesigned logo, comprised of two sets of concentric arches that face each other, alongside the simple word mark, brings a modern look to the service. The artwork represents the partnership that exists between Adeo Solutions and its clients, and the warm orange palette draws a visual connection to the parent brand of The Advocator Group. The new logo will be a strong asset to the division as it continues to expand.
In addition to the rebranding, the company has made further investments into the division's leadership. Katherine (Kate) Melcher Flaws will assume the position of director of Adeo Solutions. Ms. Flaws will provide visionary direction to staff, exceptional service to clients, and a strategic plan for expansion.
Ms. Flaws joined the division in 2010 as an attorney, and moved into the position of supervisor in 2012. Prior to these roles, she worked in civil litigation as plaintiff's counsel and later as an associate at a national insurance defense firm, specializing in professional liability litigation. She is a graduate of Merrimack College and completed her JD at New England School of Law, where she served as a law review editor.
"We are enormously pleased to have Kate serve as the director of Adeo Solutions," said Julie Turpin, CEO, The Advocator Group. "She has more than proved her merit for the position in her years with the company. She brings great vision to the role and ambition to grow the business line, as well as tremendous relationships with our team members and clients alike."
For more information about Adeo Solutions, please see http://www.adeo-solutions.com.
ABOUT THE ADVOCATOR GROUP
Adeo Solutions is a division of The Advocator Group, LLC. The Advocator Group is a nationwide advocacy organization dedicated to helping individuals apply for and obtain Social Security Disability Insurance. In addition, The Advocator Group assists Medicare beneficiaries in identifying the best coverage possible for their unique needs. The Advocator Group's team of experienced Social Security and Medicare advocates ensures that each client is provided phenomenal service while each case receives close attention. The company's core values include humility, integrity, commitment, optimism, learning, and creativity. For more information, visit http://www.advocator.com.