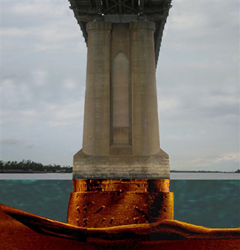 (PRWEB) May 13, 2014
Fenstermaker, along with fellow engineering firms and businesses serving the transportation market, begins the countdown around this time each year in anticipation of the major annual conference hosted by the Southeastern Association of State Highway and Transportation Officials (SASHTO). This year, the premier event dedicated to discussing the latest industry developments and infrastructure concerns particular to the region will be held from August 23-27 in New Orleans, Louisiana—Fenstermaker's home state. Opening in 1950 and headquartered in Lafayette, Louisiana, the company celebrated its growth and steady success in 1986 by expanding and establishing another location. Commemorating twenty-eight years in the Crescent City as Fenstermaker's second longest-running operations center, the New Orleans office is especially excited to welcome the 2014 SASHTO Conference to its late-summer line-up.
Working with the Louisiana Department of Transportation & Development (DOTD)—the lead state agency organizing this year's conference—Fenstermaker gladly participates in the planning, promotion and sponsorship of the event in support of both SASHTO and DOTD. Beyond its efforts as the conference's official Trade Show Sponsor, the company will exhibit its comprehensive, diverse services in engineering, environmental regulations, survey & mapping, and advanced technologies throughout the 5-day event. Professional, experienced team members from each discipline specializing in transportation projects look forward to attending informational sessions, visiting with their peers in the region, and participating in networking events.
Bolstering this year's theme of Transportation Innovation: Building the Future, Ken LaBry, a Fenstermaker manager on the advanced technologies team, has been confirmed as a conference presenter. His presentation, entitled "Images at Depth – Clarifying the Darkness: The Use of Acoustic Imaging for Underwater Bridge Inspection," will examine the progressive technologies, methodologies and use of Underwater Acoustic Imaging (UAI) that he specialized in and developed throughout his 27-year career. Referencing Fenstermaker's role in DOTD's comprehensive inspection of Louisiana's bridges, Mr. LaBry will demonstrate the benefits of UAI and limitations revealed in this pioneer project for a State Department of Transportation.
The project is dynamic due to DOTD's innovative approach, as they were the first agency to petition and receive approval from the Federal Highway Administration (FHWA) to widely use acoustic imaging instead of the traditional method, which relies 100% on the manual inspection of underwater components by divers. FHWA requires each state to complete a full assessment of its bridge conditions every five years, and these projects can be time-consuming and costly. For states like Louisiana that contain more diverse water bodies and murky conditions, the traditional way posed safety risks and obstacles to divers, sometimes preventing a site's underwater investigation completely. To fully depict the results of this progressive technology in a major transportation project, comments provided by DOTD and FHWA will feature in the presentation as part of the analysis of results.
Since November 2011, the underwater evaluation of nearly 75 Louisiana bridges has been completed using acoustic imaging, providing ample information to review the approach's efficacy and potential improvements.The company's UAI specialists, leading the underwater investigation at each bridge site in collaboration with DOTD and a dive team, used their advanced techniques and sonar capabilities to initially scan and review each bridge's submerged structural portions. Suggestions on the future use of UAI in both similar and other infrastructure cases will conclude the presentation and begin addressing any questions, as well as offer the opportunity for attendants to contribute to the discourse. Mr. LaBry's presentation is scheduled for Tuesday, August 26th, during the conference session on the "Best and Future Practices in Operations and Maintenance" lasting from 10:30 a.m. to noon.
As the 2014 SASHTO Conference draws nearer, sponsorships and exhibit spaces grow more limited, but there's still room for those interested in sponsoring the event or showcasing in the Trade Show. Head of this year's event sponsorships, Samuel Cooper, Jr. confirms that there are still available spots and he may be contacted for additional details. Sherie Burton, Director of Business Communications at Fenstermaker, is assisting SASHTO and DOTD to manage exhibitor registration, floor space planning, and general information. Businesses or organizations hoping to secure a spot at the SASHTO Trade Show in New Orleans this year should visit the official conference site or contact Ms. Burton for assistance. Sponsoring and exhibiting at the conference are tremendous opportunities to support the SASHTO group, its continuous efforts to improve transportation within the Southeast, and annual event to gather and engage regional professionals.