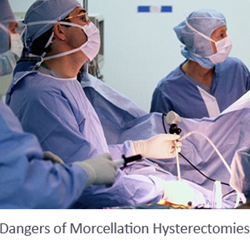 Wright & Schulte LLC is currently offering Free Morcellation Lawsuit Consultations to those effected by cancer following morcellation surgery. Contact them today at 1-800-399-0795 or visit www.yourlegalhelp.com
Columbus, OH (PRWEB) May 12, 2014
A morcellation lawsuit page has been launched by Wright & Schulte LLC to provide women and their families with important information regarding the dangers potentially associated with the use of power morcellators in uterine surgeries, as well as the growing litigation involving this issue. Wright & Schulte LLC created its new power morcellation lawsuit page after the U.S. Food & Drug Administration (FDA) issued an advisory discouraging the use of power morcellators in hysterectomies and fibroid removals due to their potential to spread undetected uterine sarcoma and other cancers outside of the uterus.
[fda.gov/NewsEvents/Newsroom/PressAnnouncements/ucm393689.htm, FDA, April 17, 2014]
A power morcellator is a surgical tool that is used in minimally invasive procedures to grind uterine tissue and fibroids into fragments so that the material may be removed from the body via a small incision in the abdomen. On April 17, 2014, the FDA announced that its review of the current literature had led it to the conclusion that the risk of morcellating an unsuspected uterine sarcoma is 1 in 352 and the risk of morcellating an unsuspected uterine leiomyosarcoma is 1 in 498. The agency has said that power morcellators should no longer be used in the majority of women who require hysterectomies or fibroid removal procedures. The FDA will continue its investigation later this summer, when it convenes an advisory panel meeting to discuss the matter.
[fda.gov/downloads/MedicalDevices/Safety/AlertsandNotices/UCM393589.pdf, FDA, April 17, 2014]
According to a report published by The Plain Dealer, the FDA advisory has prompted several hospitals to suspend the use of power morcellation in uterine surgeries. These include the Cleveland Clinic, University of Pennsylvania Health System, Brigham & Women's Hospital in Massachusetts, and Massachusetts General Hospital. The New York Times has also reported that Johnson & Johnson has suspended sales of power morcellators marketed by its Ethicon unit, pending further guidance from the FDA.
[cleveland.com/healthfit/index.ssf/2014/04/surgical_tool_for_hysterectomy.html, Plain Dealer, April 28, 2014]
[nytimes.com/2014/05/01/business/johnson-johnson-suspends-global-sales-of-fibroid-surgery-device.html?_r=0, New York Times, April 30, 2014]
Court documents indicate that at least two morcellation lawsuits have been filed in U.S. courts on behalf of alleged victims of morcellator cancer. These include a case filed in February in the U.S. District Court, Eastern District of Pennsylvania by the husband of a 53-year-old woman who died from leiomyosarcoma less than a year after she underwent a morcellator hysterectomy. (Case No. 14 5557) A second power morcellator lawsuit was filed in U.S. District Court, Western District of New York on behalf of a woman who was diagnosed with leiomyosarcoma following a similar procedure. Both lawsuits allege that the women's cancers were spread via power morcellation. (Case 6:14-cv-06218)
The attorneys of Wright & Schulte LLC believe that additional morcellator cancer lawsuits will be filed in U.S. Courts in the coming months, especially in light of the media attention now surrounding this issue. The Firm is offering free, no-obligation legal reviews to women who were diagnosed with uterine sarcoma or leiomyosarcoma allegedly linked to the use of power morcellator. To learn more, or to arrange for a free legal consultation with an attorney at Wright & Schulte LLC, please visit yourlegalhelp.com.
About Wright & Schulte LLC
Wright & Schulte LLC, an experienced personal injury firm, is dedicated to the belief that America's legal system should work for the people. Every day, the attorneys of Wright & Schulte LLC stand up for the rights of people who have been injured or wronged and fight tirelessly to ensure that even the world's most powerful corporations take responsibility for their actions. If you're looking for a law firm that will guarantee the aggressive and personal representation you deserve, please do not hesitate to contact Wright & Schulte LLC today. Free power morcellator lawsuit case evaluations are available through yourlegalhelp.com or by calling 1-800-399-0795.
Contact:
Wright & Schulte LLC
812 East National Road
Vandalia, Ohio 45377
1-800-399-0795
http://www.yourlegalhelp.com
Like us on Facebook
Follow us on Twitter
Join us on Google+