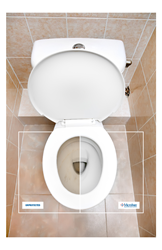 Huntersville, NC (PRWEB) May 10, 2014
Consumers are becoming increasingly interested in purchasing antimicrobial products, according to results of a recent study by Gallup. Bathrooms, in particular, were an area of interest with 70% of consumers concerned about the growth of bacteria in their bathroom.
"Microban has placed an increasing focus on bringing innovative solutions to the area of the home that consumers are most concerned about," stated Richard Chapman, Global VP of Marketing at Microban International. "One of the areas we're most excited about is our new patent pending technology that can provide 24/7 antimicrobial product protection to toilets and sinks."
This new technology from Microban is added to sanitaryware during the normal manufacturing process and will become a permanent part of the glaze. The technologies utilized have a long history of safe use, and will not wash off or wear away. Microban antimicrobial technology does not require sunlight to provide efficacy, and its technologies are registered with the EPA.
"After seven years and more than one million dollars in development costs, we're pleased to finally bring this exciting new technology to market," stated Ivan Ong, VP of Research and Development at Microban International. "Bringing this technology to sanitaryware was an important step in helping to create a bathroom that stays cleaner even in-between cleanings."
Studies have shown that combining the Microban brand and technology leads to significant increase in purchase interest. Even compared to toilets with another antimicrobial ingredient brand, the Microban protected toilet was preferred by 30% or more.
For more information visit microban.com/sanitaryware.
About Microban
Microban International, Ltd. is a global technology and marketing company dedicated to enhancing high quality consumer, industrial and medical products with branded built-in protection from microbes. The Microban® brand is an important consumer trustmark for effective and long lasting antimicrobial protection. Microban International licenses the Microban® global brand name, sells custom-engineered compounds, and provides a range of services, including regulatory and marketing support. Microban International is headquartered in North Carolina with operations in North America, Europe and Asia. For more information on Microban, please contact (704) 875-0806 or visit microban.com.