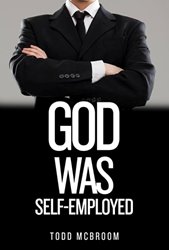 It is what we do with our time that makes all the difference.
(PRWEB) May 12, 2014
Todd McBroom, an entrepreneur, sales trainer, and speaker, built his financial success from the ground up. And his new book, God was Self-Employed which launches Tuesday, June 3rd, 2014 and is published by Next Century Publishing, shows us how we can do the same. From an early age he developed a smart work ethic and a code of values based on honesty, which he imparts to us in his new book and his creative marketing campaign.
Todd's unique marketing campaign takes advantage of digital technology while acknowledging the time-tested, traditional practices of networking and making connections. For his upcoming launch, Todd has printed out 100 exclusive copies of his book and sent them to select individuals with the request to take a selfie with the book. These individuals will be posting through their social media channels with the hashtags #bestseller, #selfie, and #godwasselfemployed.
Already 'God Was Self Employed' is taking off in popularity and the social media campaign is growing on its own. By building a social media fan base from the preexisting followings of others, Todd is tapping into their social currency to create a cascade of popularity that will only grow with time.
Todd grew up in a divorced household that was always broke...but not poor. According to him, being poor "is a state of mind, whereas being broke simply means you lack the funds necessary to supply yourself." So Todd knows what it's like to not have money, and he shows us what his life was like growing up without much; it is through this lifestyle and his family's financial struggles that he gained the desire and the willpower to become self-employed.
Willpower, we find, is what separates the entrepreneurs from the employees. While most people make the excuse of not having enough time, Todd says that "It is what we do with our time that makes all the difference." And to those who make the excuse that they don't have enough money, Todd quotes scripture and tells us that "God supplies us with all the necessary means to make our way." He hammers the point home with, "Microsoft was started in a garage."
Todd McBroom is a Christian, and you find that out in the first pages of his new book, but don't think that this book is aimed at converting anyone. This is a book about business. God was Self-Employed demonstrates a novel approach to a familiar and honest idea: you have to work for what you want.
Todd McBroom
Todd McBroom is a Christian, husband and father, entrepreneur, author, and speaker. He often uses lessons in the Bible to enhance his own teaching, endeavoring to help people deal with and succeed in the real world. Todd hopes to inspire others to take advantage of the many opportunities offered to them through his unique combination of expertise in both business and ministry.
For more information, please visit http://godwasselfemployed.com/ or connect directly with Todd at toddmcbroom(at)gmail(dot)com 337.349.6426.