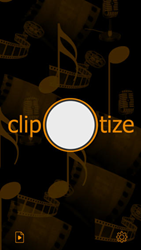 We wanted to re-invent the way friends and family communicate with one another; by pairing music with visual content, the users personality really shines through and provides added meaning for photos and videos
Huntington Beach, CA (PRWEB) May 12, 2014
ClipOtize, a musical photo and video app developed by appOtize, officially launched this week in the iTunes store. ClipOtize brings a new light to media sharing by allowing users to add custom background music clips to photos and videos.
"We wanted to re-invent the way friends and family communicate with one another; by pairing music with visual content, the users personality really shines through and provides added meaning for photos and videos," says Judy Fike, Co-Founder of appOtize.
ClipOtize's simple user-friendly interface makes it ideal for a variety of age groups. Users select photos or video from their albums, select a song from their library, and with a simple tap, a 15 second clip can be taken from any part of the audio file, and applied to the visual media. Users have the option to add a message or custom watermark within the clip for a personal touch. ClipOtize also includes a preview feature to allow user's to see their creation before sharing via social media, email, or text messaging.
In addition to these features, clipOtize sets itself apart by offering several other unique capabilities such as inserting voice recorded messages in the user's clips, as well as music, the ability to edit previously saved clips, in-app sharing via Airdrop and other social media sources, and an in-app camera for seamless capturing of photos or video.
"We wanted to provide our users with a variety of fun and convenient options so the only thing they need to add is their imagination and creativity," says Fike.
ClipOtize is available now, for free, on iTunes.
ABOUT:
Judy and Steven Fike, are a Husband and Wife app development team from Huntington Beach, California. Judy has an expertise in counseling and human resources, and as a result, has always placed a high value on communication. Since texting is a key way that people communicate, Judy began to think of new ways that messaging could be more personalized, and clipOtize was born. Steven, an engineer by training, entrepreneur and innovator by choice, is a self-taught programmer and enjoys dabbling with new ideas and possibilities. Although Steve is a high-level executive during the day, during his free time, he is typically writing code, debugging programs, or in his garage welding fire tables and re-inventing how skateboard trucks are designed. Steven holds 8 patents and several awards in Innovation and new product development.